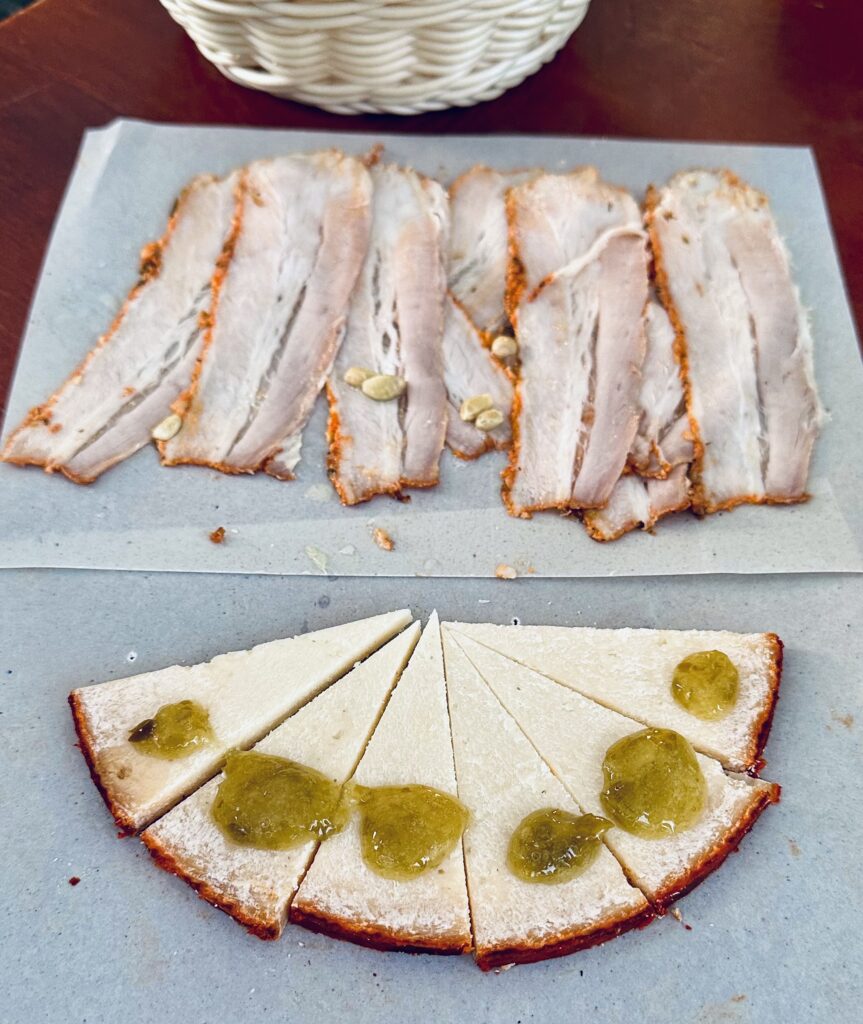 We were supposed to meet our food tour guide by a massive ficus tree near the beach. As we were later told, the legend was that three nuns were sailing through the city, and one became ill, causing them to disembark for treatment. They carried four ficus saplings with them, and the sick nun recovered, so they decided to leave the ficus trees to the city to plant. I looked it up, and it was two nuns, and the sick one didn't survive. This wasn't the correct location, as the nun's tree was in a garden a few blocks away. It is more appealing to think she survived and the ficus gifted in gratitude rather than unloading a dead lady's luggage.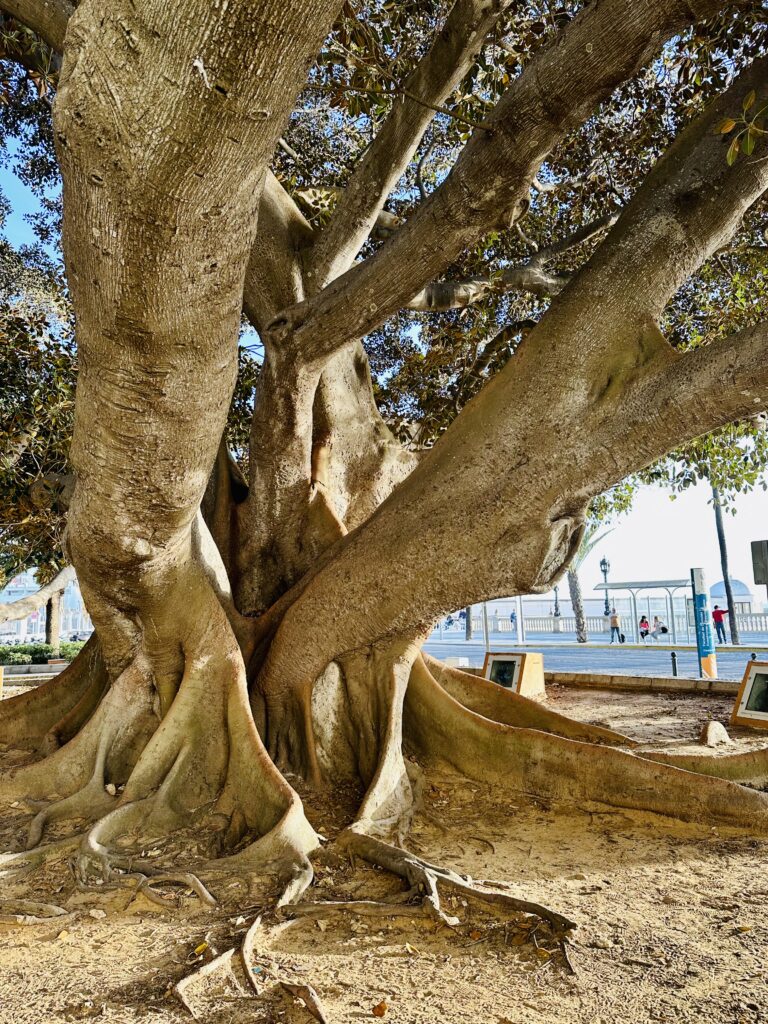 There's often a distance between the facts and the storytelling, and what is embellished or removed says more about the storyteller than the tale. Whatever their source, the trees are remarkable for their breadth, undulating trunk structure, and 200-year-old story. We arrived ten minutes ahead of time, and as the minutes passed (due to the width and mass of the trees), my husband wanted me to walk around them to see if our guide was waiting on the other side while he waited. On the other side, there was no one, but I could look toward the beach and the people walking their dogs in the golden light.

This is a new concept for us, hiring someone to take us from bar to bar to eat and drink, something we require no particular assistance with on a regular day. I used to be the kind of person who would say, "Never, I want to organically explore the city and food! I want to DISCOVER it myself!" As if I was the first person to eat tapas or set foot on Mars. I would walk up and down the narrow streets, peeking at menus or into darkened doorways, trying to use my forensic skills to determine where would be best. Not the empty place with the one sullen waiter in a stained shirt, smoking a cigarette. Not the crowded café with bright picture menus with every passenger of a recently arrived cruise ship in their pedal pushers and dumb t-shirts. I wanted someplace the classy worldly version of me would eat, like out of a movie with laughing, beautiful women in lipstick, big hats, and sunglasses having lunch with languid, handsome men in linen suits.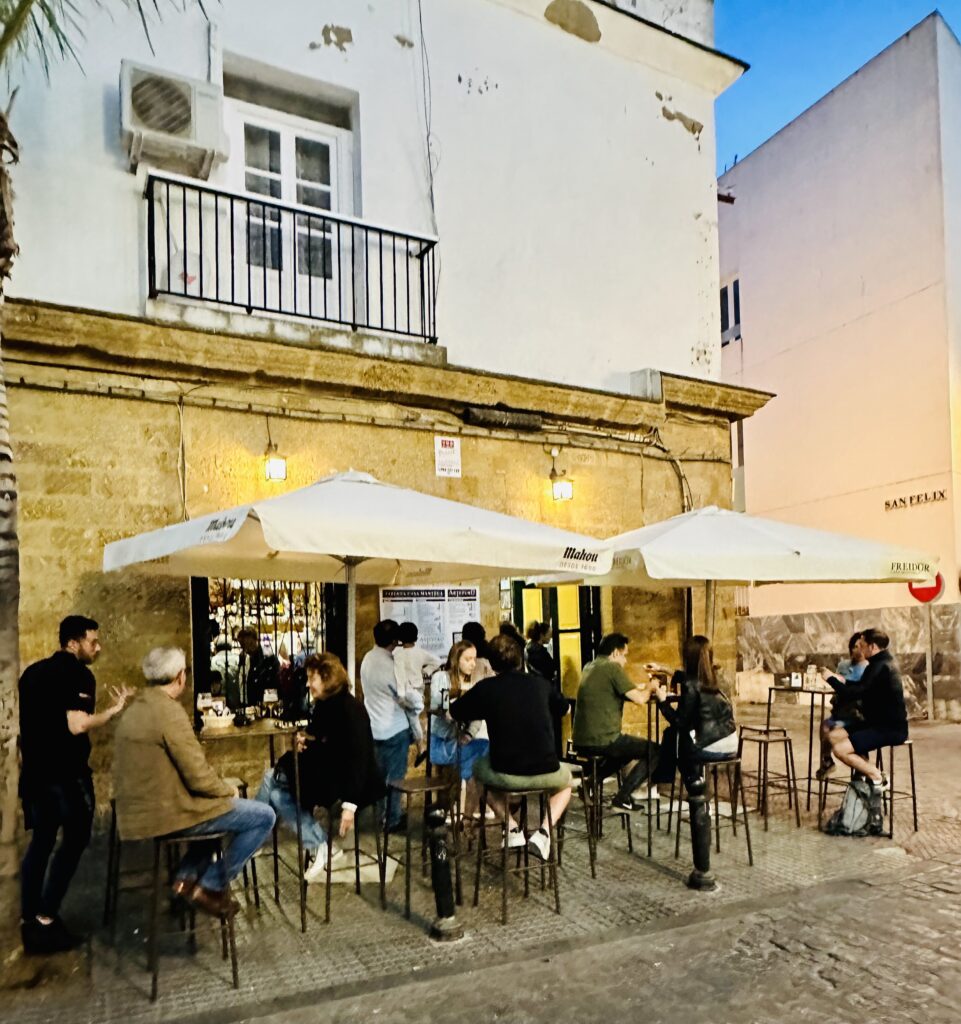 When "discovery" works, you go up a small alley to find a café with a garden terrace and delicious smells. A matronly, cheerful woman, assured in her culinary expertise, slapping down plates of fried fish and pitchers of sangria. However, you often wander around until your feet are sore, your throat dry, and your stomach is rumbling.

Maybe you Googled all the best tapas bars only to discover they are closed or a long walk away. You start to eye the Cadiz sampler platters slapped in front of hungry cruise passengers with envy. Even the hamburgers begin to look good.
Discovery is excellent, but it is nice to have a guide. I suggest doing this initially to get a quick taste of some of the best the city offers and get advice for exploring after. If you can budget for it and the reviews of the food tour align with your vision, then why not book someone who can give you that experience and immediate insights into the local culture and lifestyle?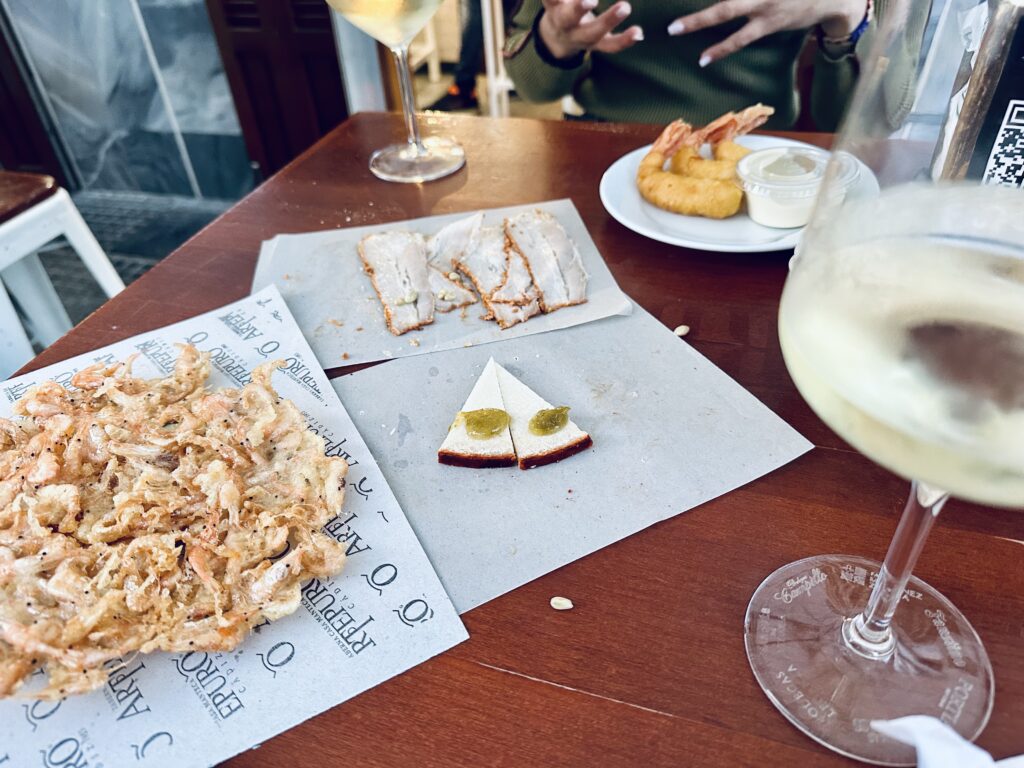 Our guide arrived shortly after, and we headed for our first stop, Casa Manteca. Tapas is a serious business in Spain, and though the restaurant had yet to open, we positioned ourselves at a table outside. It would fill quickly, she told us, and within fifteen minutes, every outdoor table was occupied, and a line had formed. She ordered a crisp white wine from the Barbadillo vineyard and shaved pork with slices of crumbly dry cheese and asparagus jelly. All was served on waxy sheets of paper. The pork was flavorful and delicate, shaved so thinly you could see lights and shapes through the fat. The cheese and the asparagus jelly paired the mildly sharp texture with the sweet, summery hint of the garden. She also ordered a tortillitas de camerone. The tapas of Cadiz takes on many forms, but this defining dish resembles a savory funnel cake with tiny shrimp. It is good, but I cannot stop thinking about that cheese and jelly.

Sometimes I will brush my teeth, walk to the grocery store, or stare at a pigeon – and the cheese with asparagus jelly will come to mind. I will take that memory out and hold it close to me, give it some sunlight and a light dusting, a powerful hug before releasing it. That is how good that cheese and jelly was. Spank bank-level cheese.

I will take that memory out and hold it close to me, give it some sunlight and a light dusting, a powerful hug before releasing it. That is how good that cheese and jelly was. Spank bank-level cheese.

Tweet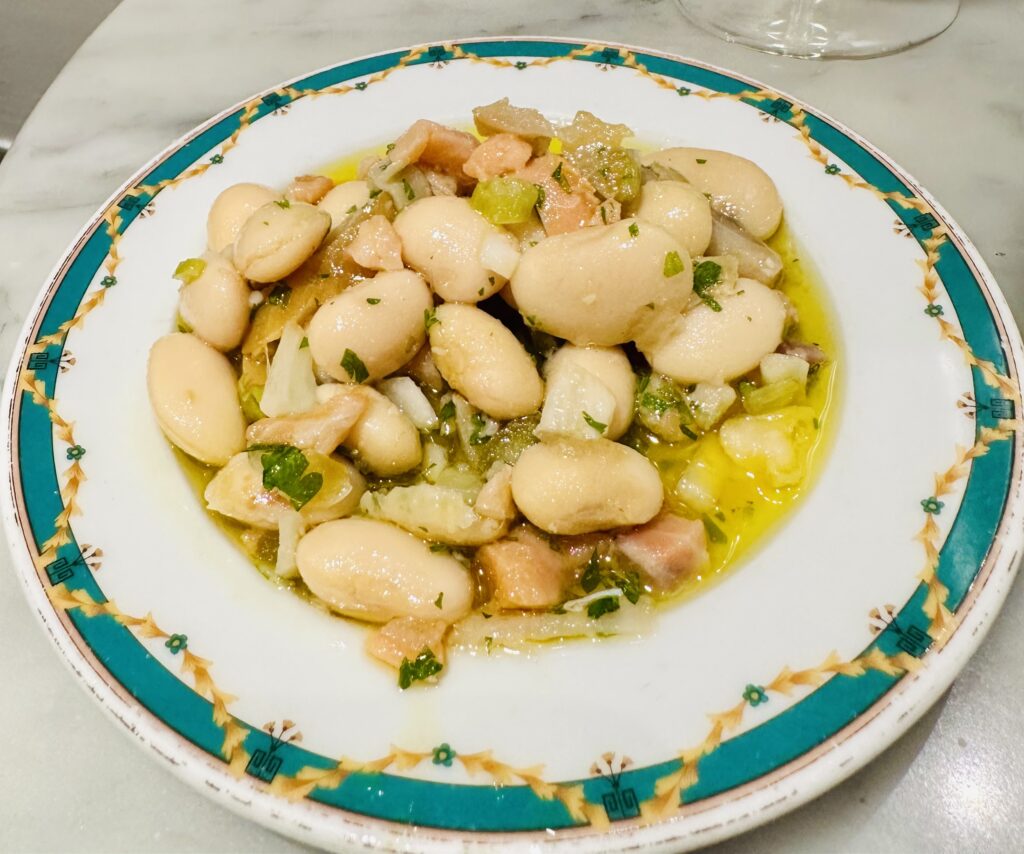 Our guide told us about the history of each dish we ate that night, how it was served, and why, plus answered any of our questions about the growing popularity of the city and her own experiences living there. She described a tightly knit community where people liked their parties and where the tourists abandoned it for much of the year except for the summer heat when they crowded the beach. This week, in late March, we ran across no tourists outside of perhaps Spanish ones in any of the restaurants or bars we visited.
Our next stop was El Faro. The crowds were forming here, and we opted to stand in a corner with high marble shelves to eat from rather than wait for a table. There we were served a white bean dish with salmon (judias con ahumados) and onions drizzled with the best olive oil I had ever had. The olive oil's light, earthiness accented the salmon's richness.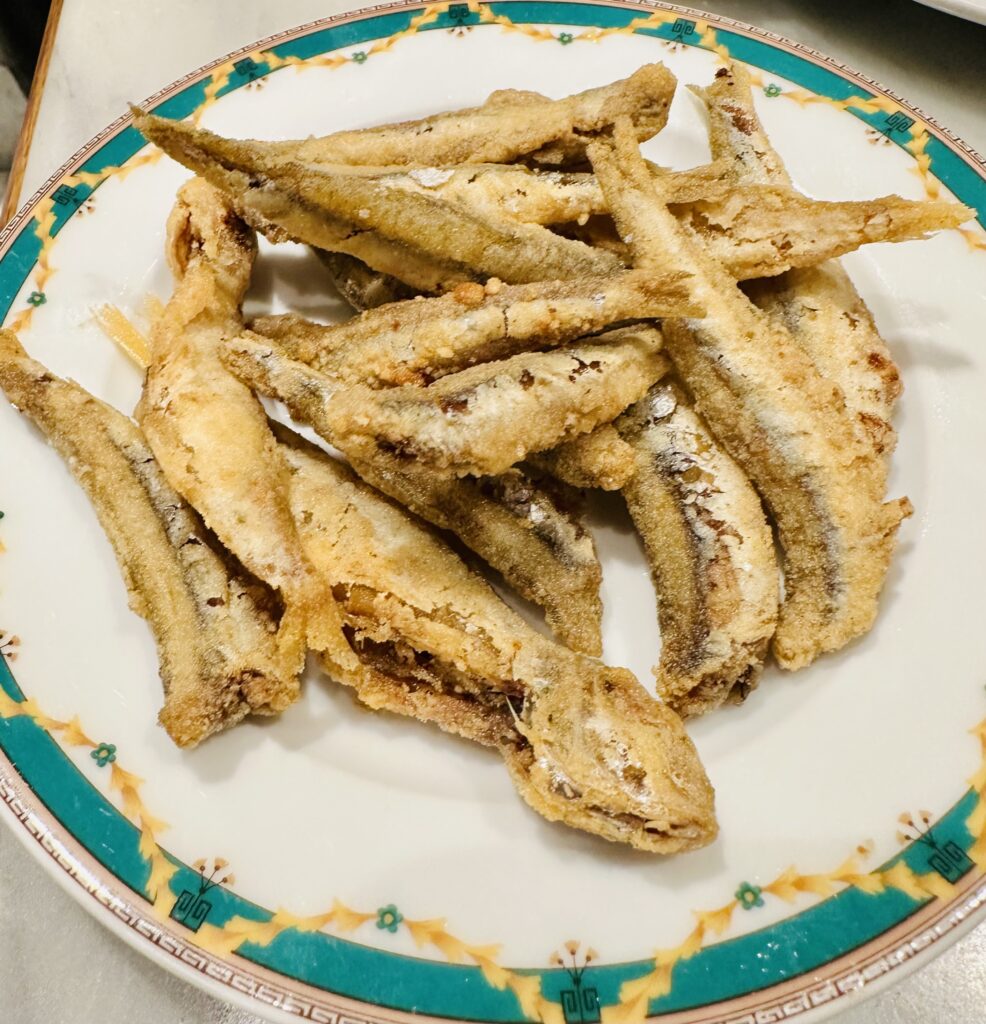 We also ate a variety of small, fried local fish (acedias) you chomped down head to tail, and soaked in vinegar – boquerones y vinagre. Added to this was a boiled potato and tuna dish – papas alinas. Finally, we topped the evening with a glass of sherry from a nearby town, swirling the golden liquid in our glasses and staring into its depths.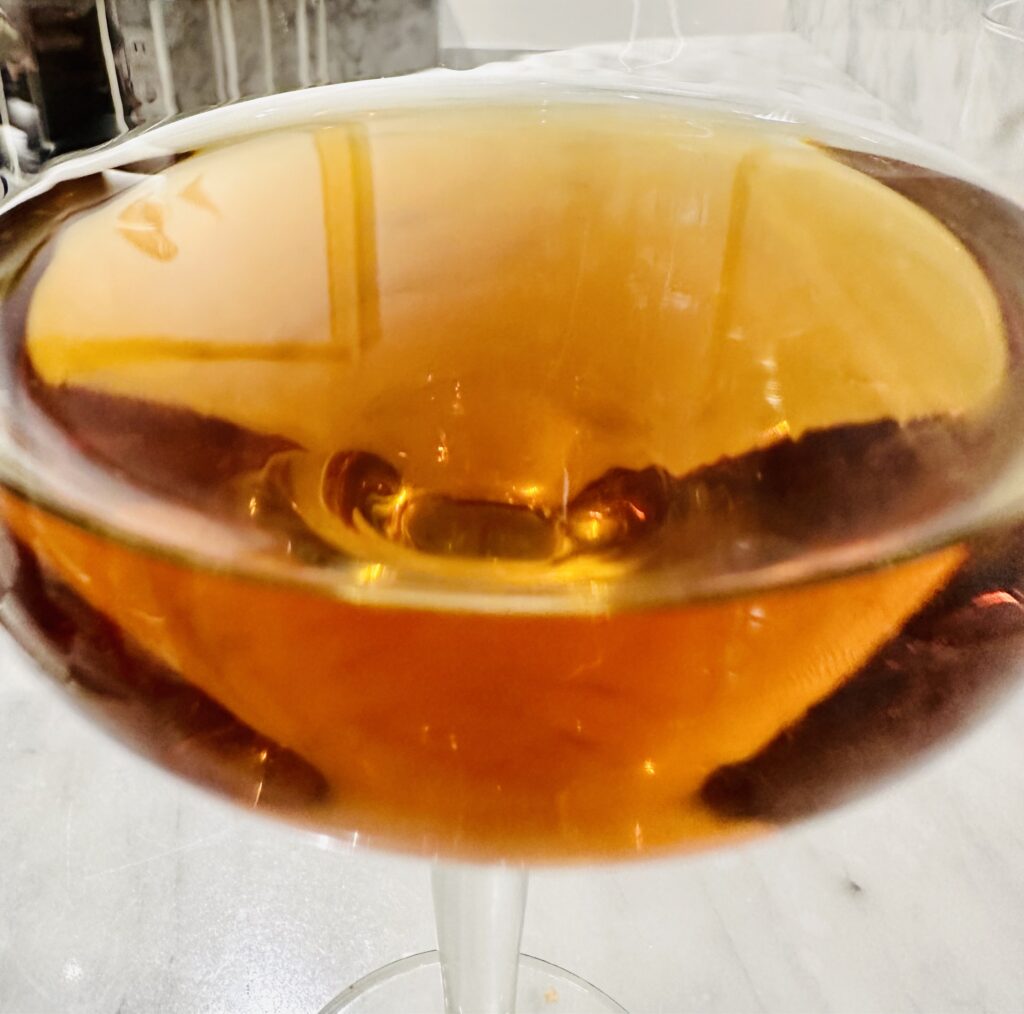 After dinner, we wandered through the streets back to our hotel, and I paused to photograph a full moon looming over an ancient church. There is a quietness to the streets, a calmness like it is waiting for you to return, inviting you to stay. Cadiz can make you want to linger there, not only for its architecture and gin-blue water but also for the freshness and variety offered in the tapas. I know we will be back to sample all of it many times.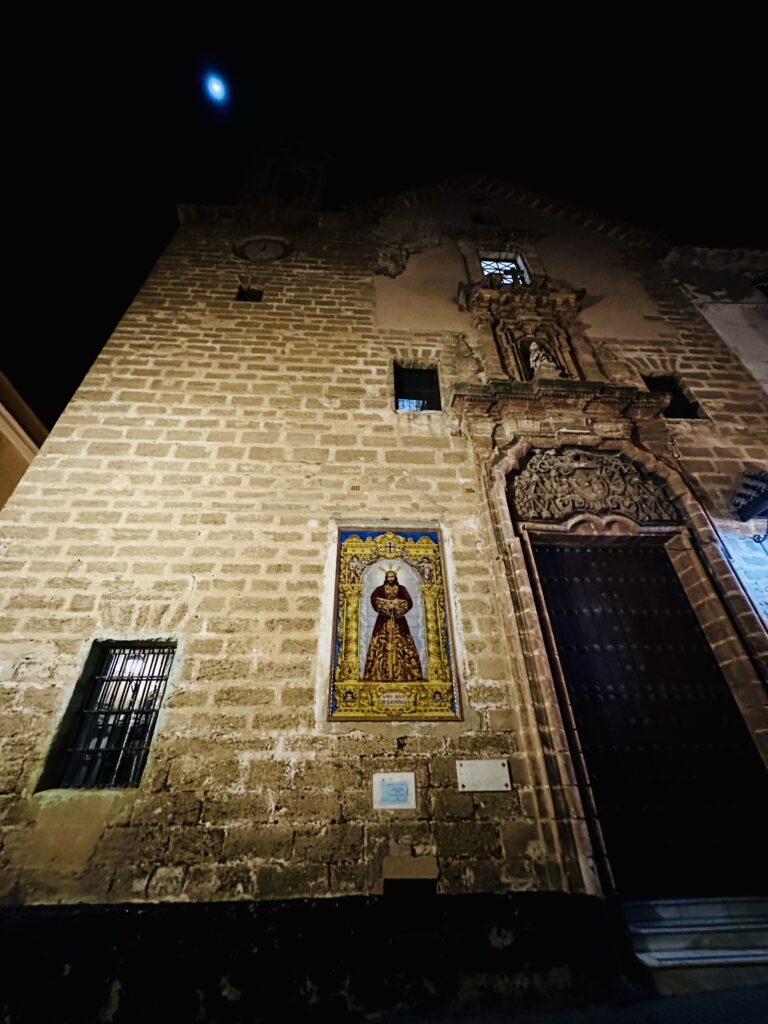 General Tips: