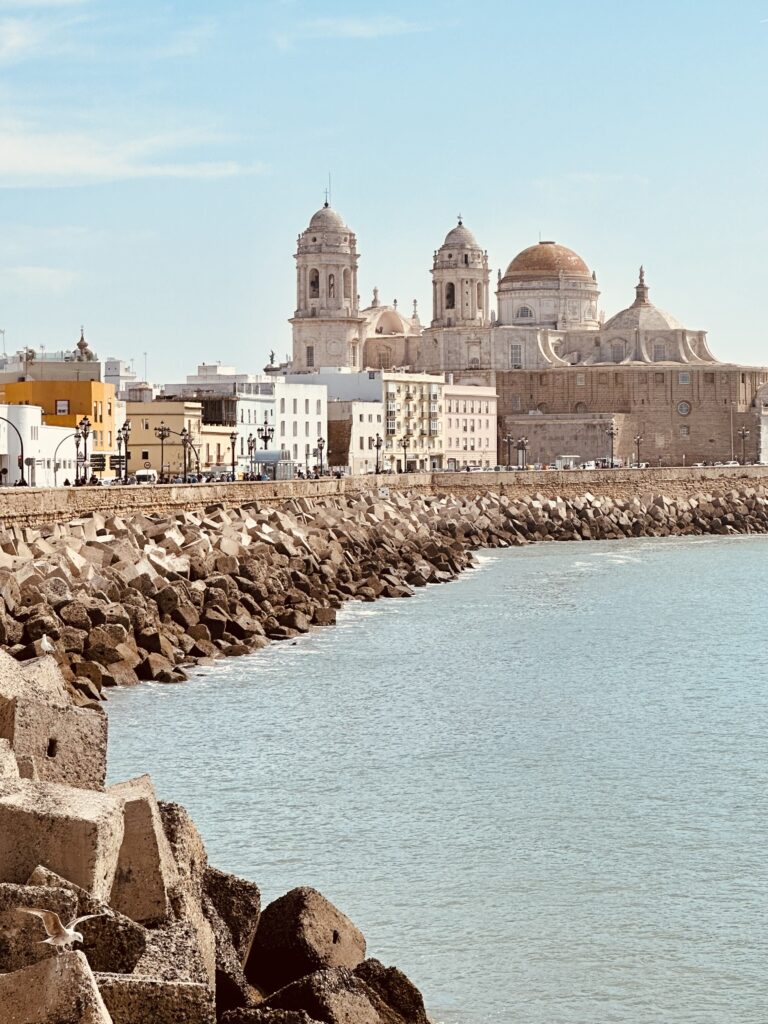 "Want to go to Cadiz for your birthday?" my husband asked.
"Where?" I said.
He said it lispy like his tongue was swollen: "Gaaaaadeeethhhhhh." He repeated, emphasizing the lisp.
"What?" I said.
He then described the city established over 3,000 years ago and the oldest
in Europe, located at the southern tip of Spain.
"That can be your birthday gift," he said. It is to be my 55th, and I feel as ancient as I have ever felt. "Sure, why not," I said. I didn't know shit about Cadiz.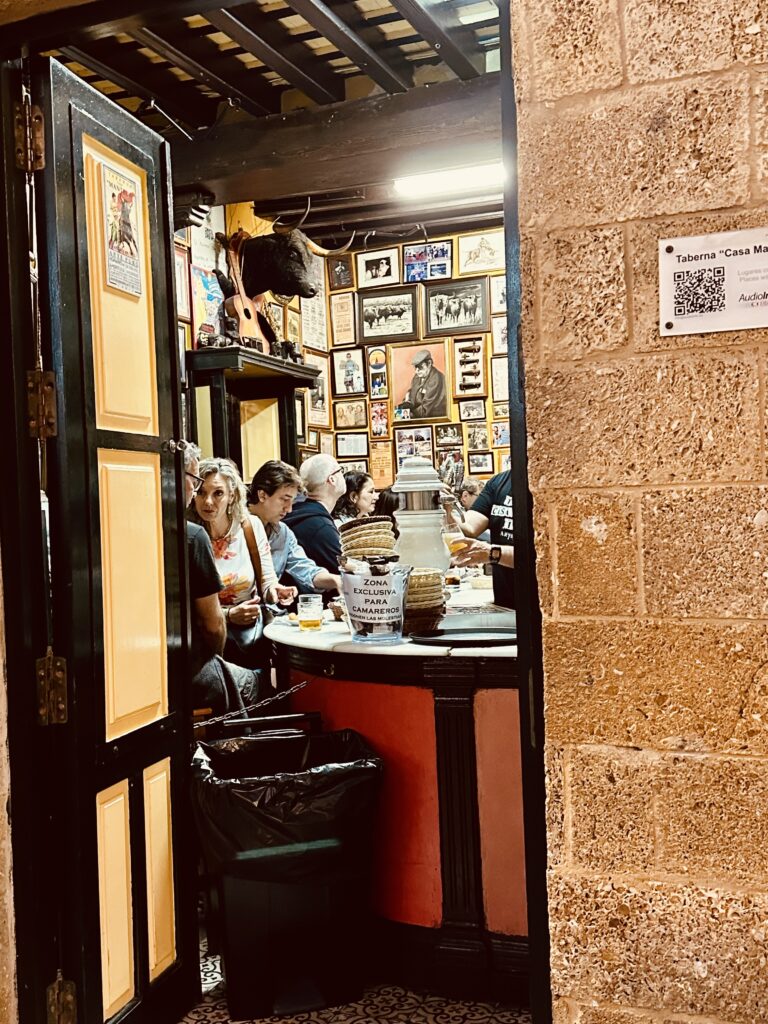 There is comfort in going somewhere you don't know shit about. There are zero expectations. No films or commercials to superimpose on your experience, no memorized articles or checklists of things to do.

Tweet
No one had ever told me anything thrilling about Cadiz before. When I mentioned where I was going for my birthday, everyone had the same reaction. "Huh?"

We took a 55-minute flight from Porto to Seville and then a train to Cadiz. The ride
took us through the brown and golden countryside, rolling hills and villages, and past an occasional Quinta resembling something from a spaghetti Western. Once, I saw a man walking along a fence line with a handful of freshly picked carrots, a tan and white terrier prancing beside him. We ate Pringles and drank Coke Zeroes while we watched the countryside roll past.

As we approached the city, the grasslands fell away to marshes. There I saw trenches
dug since Roman times to gather sea salt, old yellow ruins of huts sitting isolated in the damp grasses and flamingos.

"Flamingos! Fucking flamingos!" I blurted out. I have never seen flamingos in the wild, and this still seems one of the most fantastic things you could ever hope to witness staring out a train window.

The final stop in Cadiz is at the harbor and from there you can easily walk into the
central historic district. We pass through shady gardens and narrow, clean, cobbled streets to reach our hotel. Huge wooden, studded doors big enough to keep trolls out swing into the vestibule for a courtyard, once open to the sky but now glassed in. A capped well sits in the middle. The historic buildings here mainly were former merchants' homes, with large central courtyards. Now they are apartments, offices, and hotels like ours but retain the same architectural features.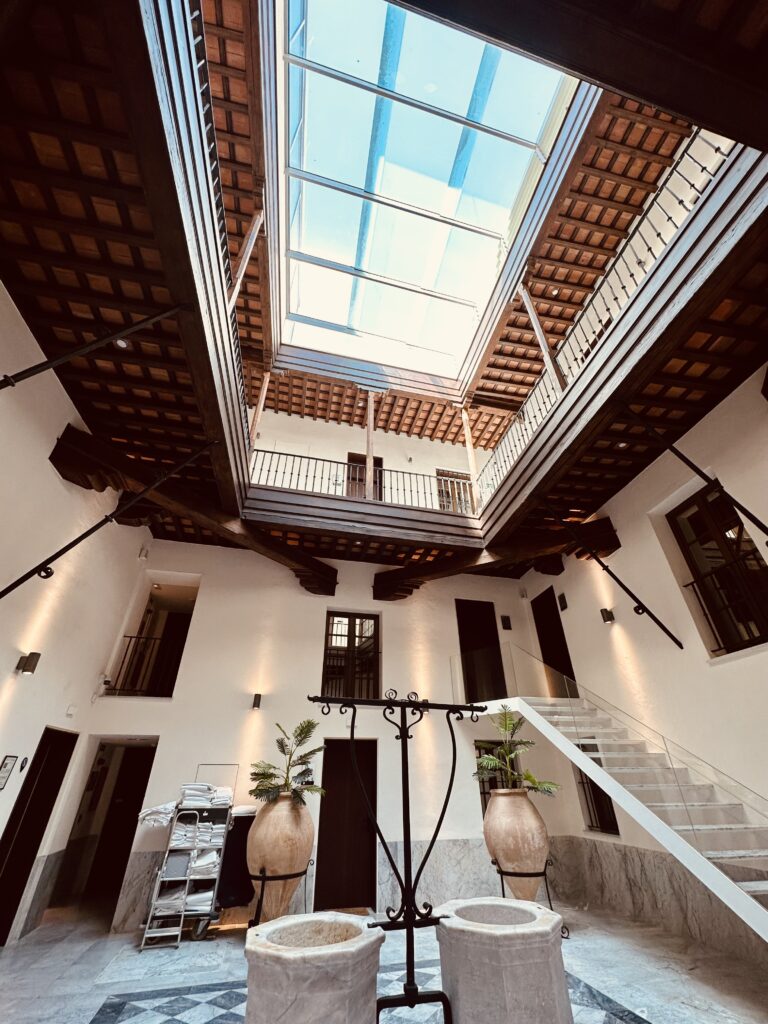 After dumping our luggage, we set out for the central market, passing shops, bars, and
many dogs along the way. Dog after dog after dog. One person told us there were more dogs in Cadiz than people under 25, making it a more attractive place for canines than young humans seeking a job. I wondered how they managed to keep the narrow, cobblestone
streets from filling with piss and poo, but the city has a firmly enforced requirement. All dog
walkers must pick up any poo and carry a water bottle to hose down wherever the dog directs its urine. We doubted this, having grown accustomed to dog walkers in Portugal pretending their dog's poo didn't exist, a shameful thing they wanted to put behind them.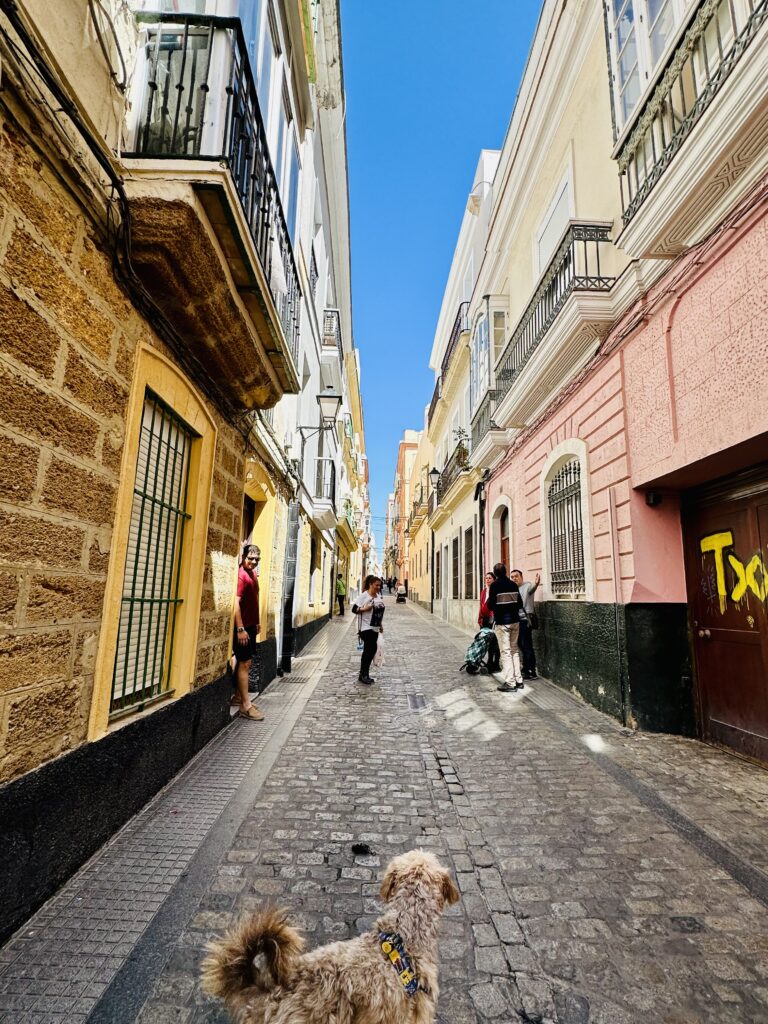 The central market contained vegetables, fruit, meat, and seafood stands. We aimed
for the sellers of paella and sangria, eating a sampling of multiple types before we walked over to the main beach in Cadiz, an intimate half-moon of sand hugged by stone fortresses, the protected harbor scattered with softly rocking, anchored wooden boats. We learned Halle Berry once emerged from the water here for a scene in a 007 movie, and all the locals hovered to get glimpses of her in a bikini. An older man approached me, speaking in slurred Spanish. We politely listened until he described something quite animatedly that required jerking off motions with his hand.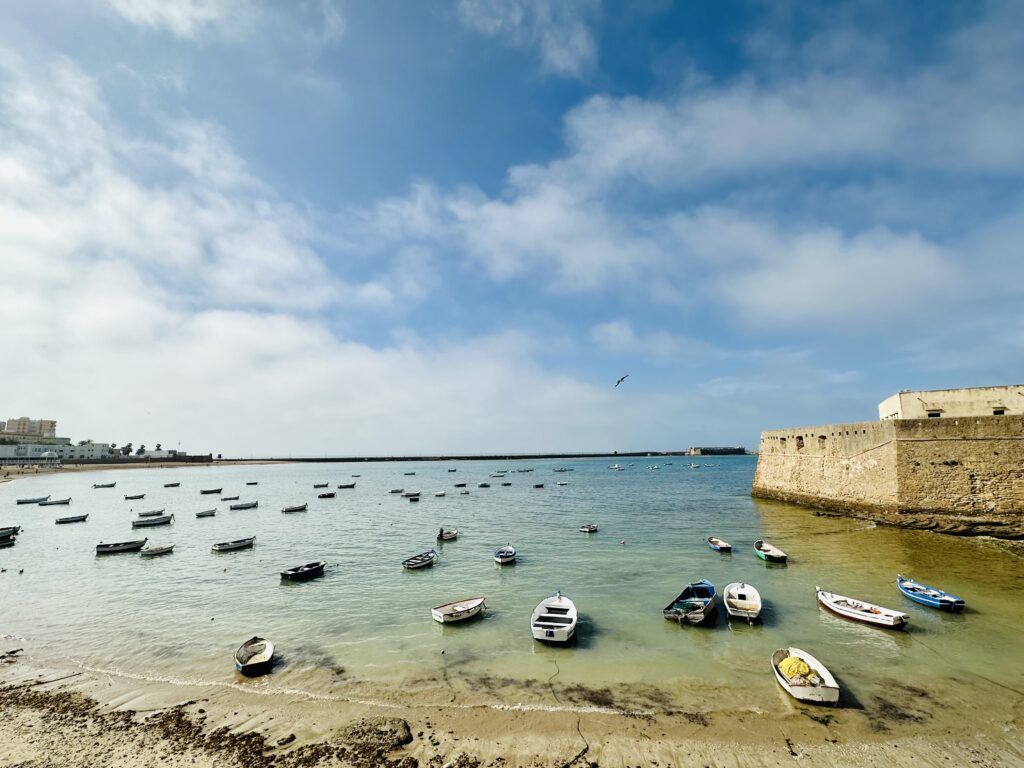 Returning to our hotel, we noticed a small pub with locals drinking beer and eating tapas across from our entry door. People were there every morning, drinking beer at the street window for the remainder of our stay.

We spent a quiet evening working, but by the next day, we were ready to explore more
of the city. Walking along the sea wall, through the parks and gardens, and watching the parade of dogs who passed us on every street felt intimate in such a way as to be familiar. Cadiz isn't just old; it feels old. So old that, even if you do not believe in past lives, you suspect you may have been there before, perhaps as a Roman soldier, a merchant, a sailor, maybe even as an old drunk making suggestive motions at couples watching the sunset. The narrow streets among the merchants' homes create corridors branching out like nerves to the sea, and many of these homes still retain the lookout towers to view arriving ships. It is easy to get lost.

We stumble upon one of the free exhibits of the ancient Roman ruins beneath the city. Their only request is to know where we are from. Inside, transparent boardwalks crisscross the protected remnants of a fish sauce factory. They once processed fermented fish guts into a salty sauce called garum, popular with ancient Romans. The ruins displayed a few clay pots used to store the sauce. We stopped to view a cartoon of an ancient Cadiz fisherman hacking up fish to make the sauce while a sexy woman danced. The garum dance is one that my husband and I are still doing occasionally. In it, we raise our hands over our heads and slowly gyrate our hips and our hands counterclockwise. The dance signifies, "Hell, yes. Praise be. We are rich in stinky sauce and good fortune."

After the ruins, we walk up to the top of a famous watchtower, the Tavira Tower. The
towers were built in the 17th century, and there are 126 of the originals remaining, speckling the city. There is a six euro fee to ascend Tavira, but from up top you have a spectacular view of what the merchants once saw when they watched ships come in. There is also a camera
obscura, showing you an inverted 360-degree view of the city you can view for an additional
fee. Up top, we linger, looking out across the roofs, the many towers, and the rounded gold dome of the cathedral. I imagine waiting here for my ship to come in, spying on my neighbors doing the same. Today, as no doubt in the past, the rooftops are where people hang their laundry due to the shadowy streets. On one roof us, an apron-wearing woman, her hands on her hips, stares out across the city as we do. Her laundry will dry quickly in the direct sun and breeze.
To be continued….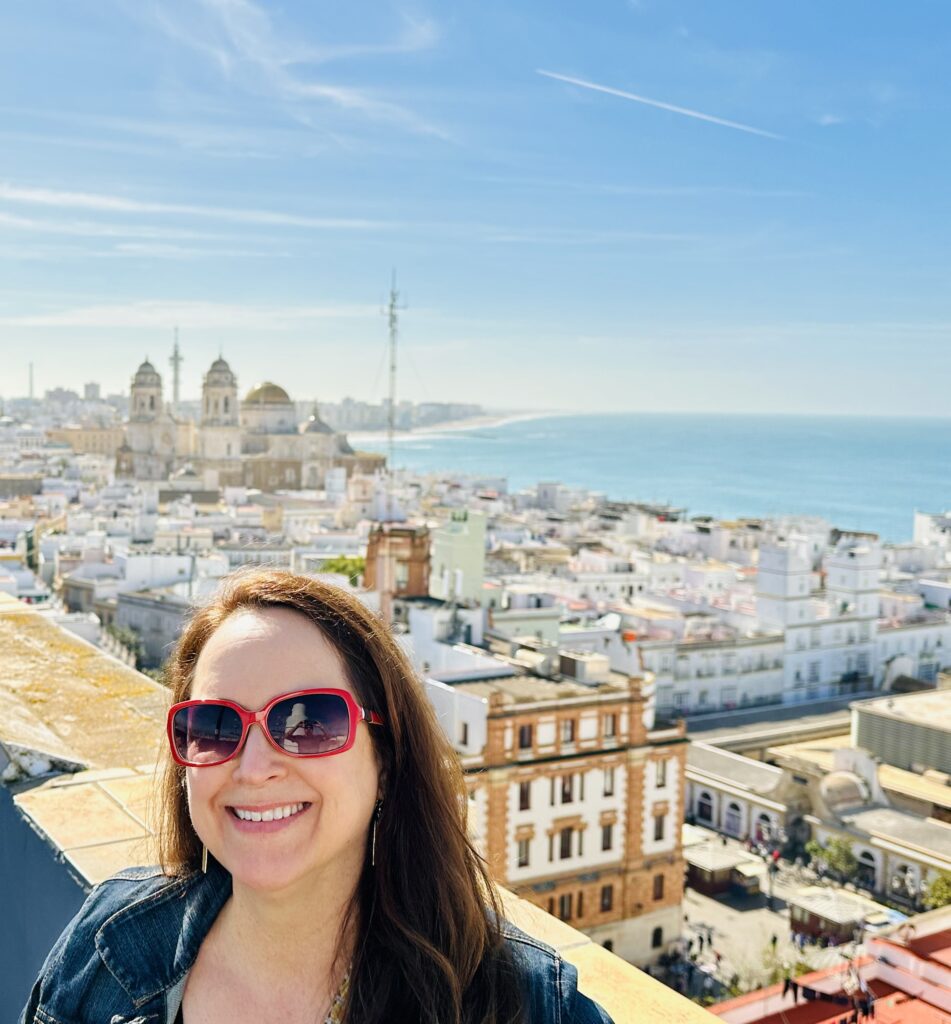 General Tips:

Try going someplace you know nothing about and resist the urge to research heavily prior to your arrival.
Experiment with smaller cities that aren't high on the tourist radar.
Whenever possible, take the train.