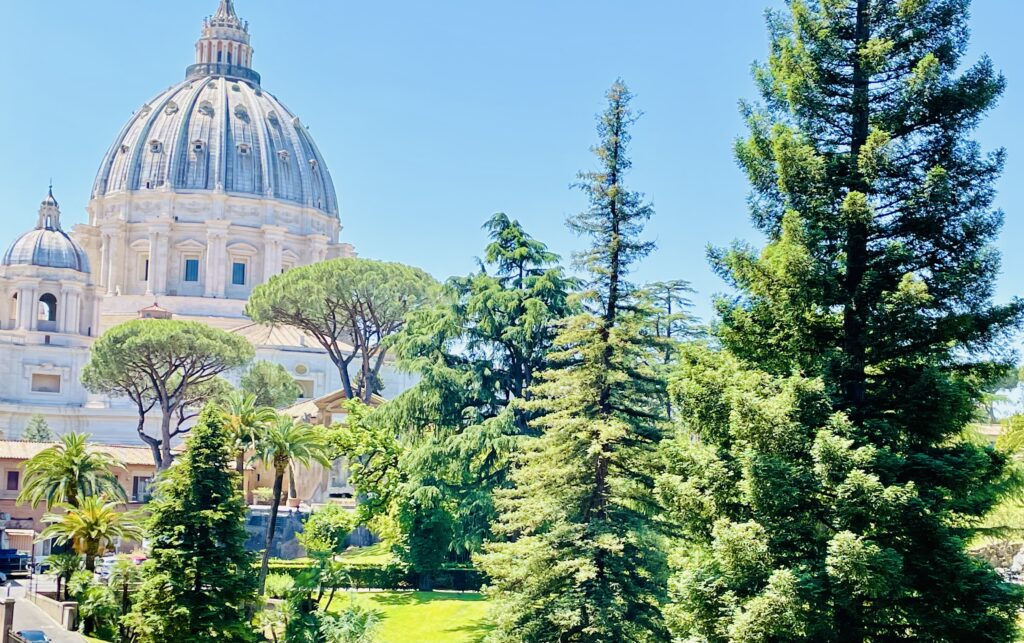 We arrive early for our prepaid tour of the Vatican, hopeful of bypassing some of the crowds. Lines are forming along the outer walls, and hundreds of tourists assembled with guides in small clusters dot the sidewalk across the street. The heat rises, and many dart into a restaurant to get something cold to drink. About a dozen others are in our group, and I chat with a couple from Dallas. Even though we recently lived within 40 miles of them in Denton, we quickly ran out of things to say.

"They can tell," I think. "They know I had a Beto sign in my front yard."

When in Rome, it is necessary to see the Vatican. I rarely say it is mandatory to see anything. Still, given the historical power structure and influence of the Catholic Church, it is necessary to see the obscene display of wealth combined with the glorious art and architecture in this vast complex. The outer walls were constructed to be impenetrable, reminding us that the Vatican and its
rarefied inhabitants needed more than spiritual isolation from the public; they needed protection. Today there are less than 500 passport holders for Vatican City, the smallest country in the world. Once inside, we go through the mandatory screening for any explosive devices and continue into display areas for artifacts from across the globe.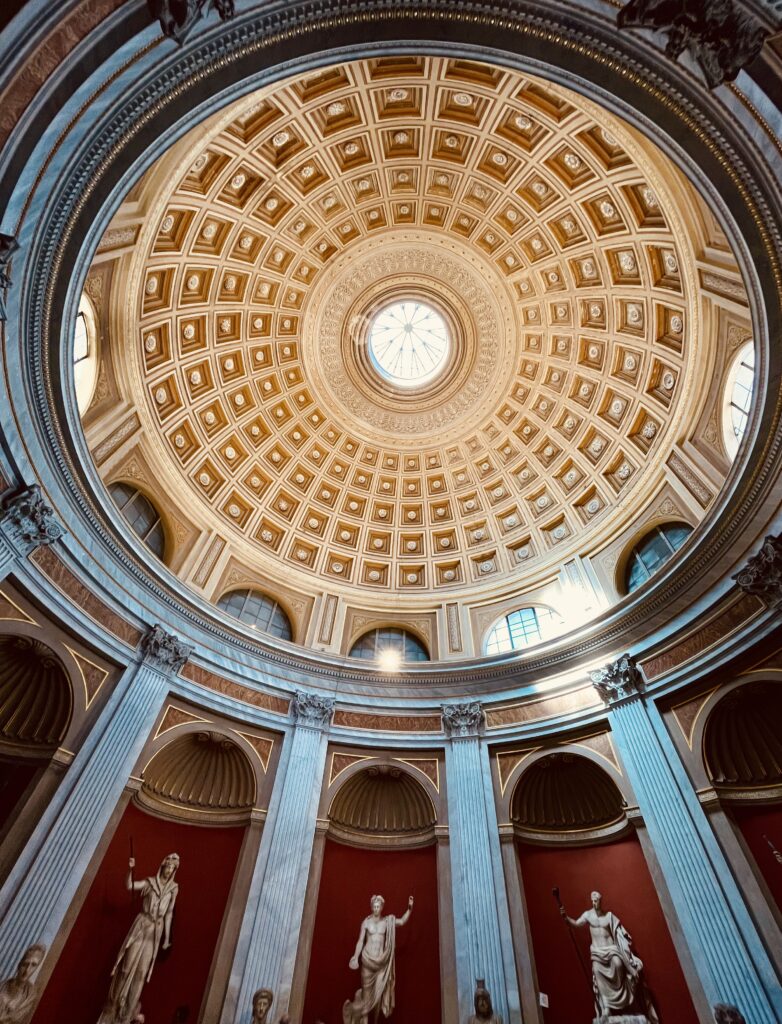 There are loads of people, and then there are massive crowds, and then there is the Vatican. The shoulder-to-shoulder density is difficult to describe. Most photos of any heavily touristed site manage to eliminate them by editing or angle to suggest an absence of humans. I do this myself because sharing photos with crowds would be all you see. The truth is, we see both. When you are there in person, you are constantly walking the line between observation of the gilded architecture, exquisite art, and expansive gardens everyone lined up to see, and the awe-struck sweaty masses, whining, coughing, and farting their way through it. These crowds are cropdusters, aware the wall of humans will make it difficult to pinpoint who just released a silent but deadly one.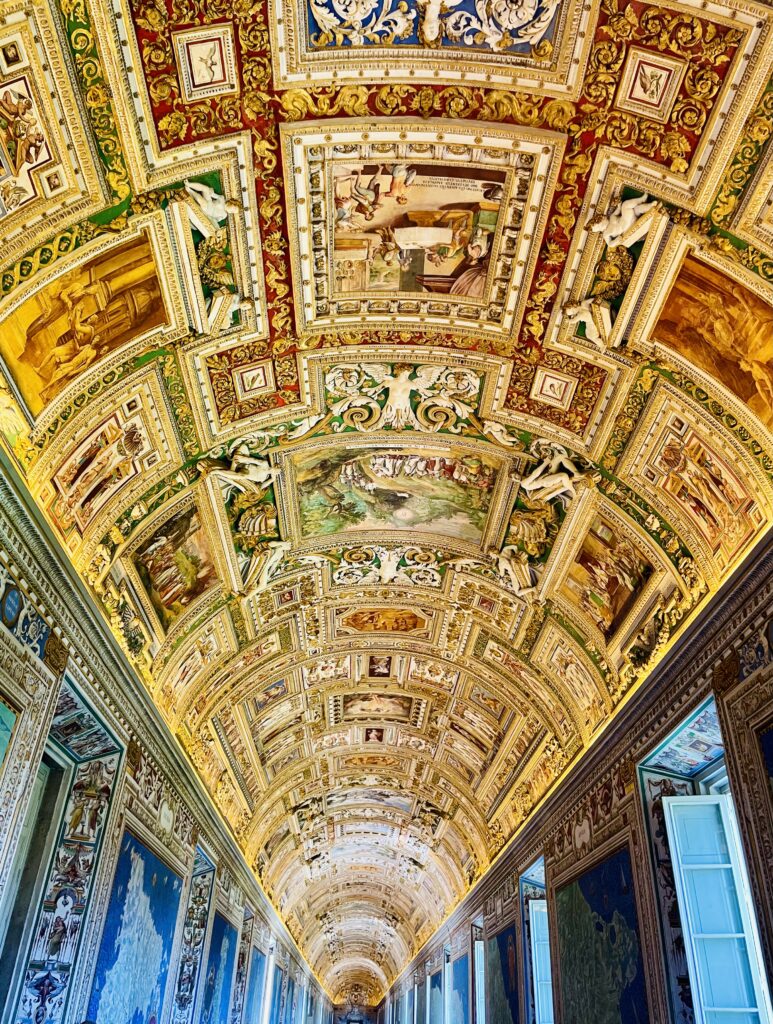 The Gallery of Maps, a gilded floor-to-ceiling display of details from throughout Italy, is a good example of the type of photo editing done to suggest no one else is there. We walk the long hall like everyone else, gape-mouthed and focusing on the minor details in the paintings and elaborate patterns in the marble floor, but are swept along in the stream.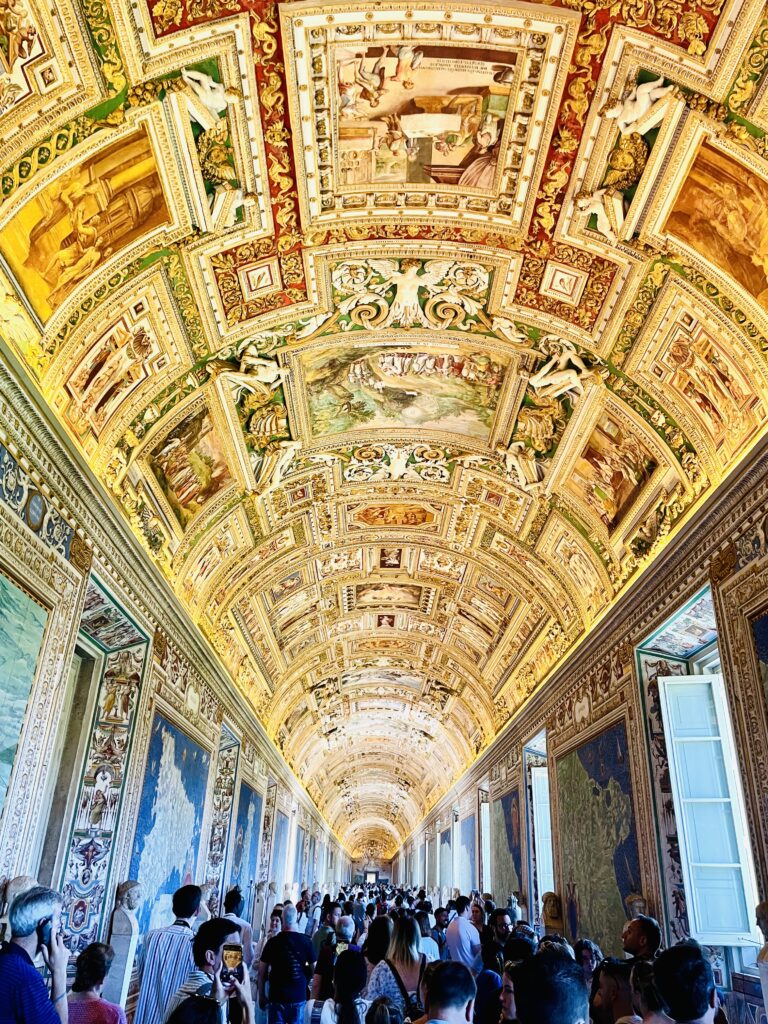 The Vatican Museums house one of the world's largest art collections, but the sculptures are often bypassed for the more famous rooms. Hot, tired, gassy people tend to want to get it over with, and they make a straight line for the more easily recognizable or shiny, such as the Sistine Chapel. You can see everything from the realistically carved nutsacks of life-sized goats (in a hall devoted to animal statuary) to the iconic Laocoon and his two sons, permanently fixed in a death match with snakes.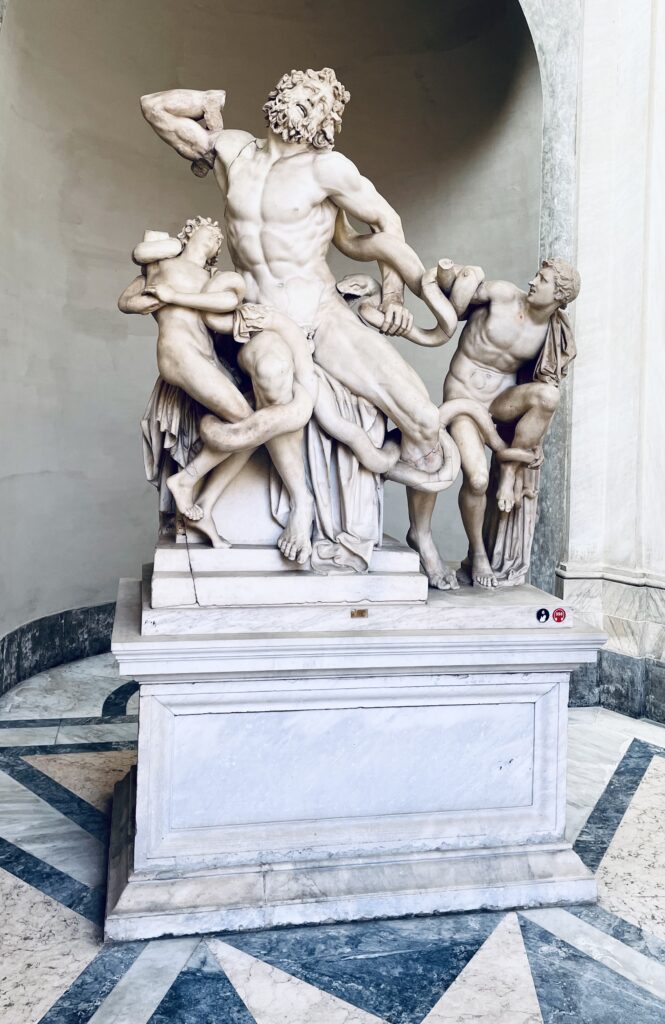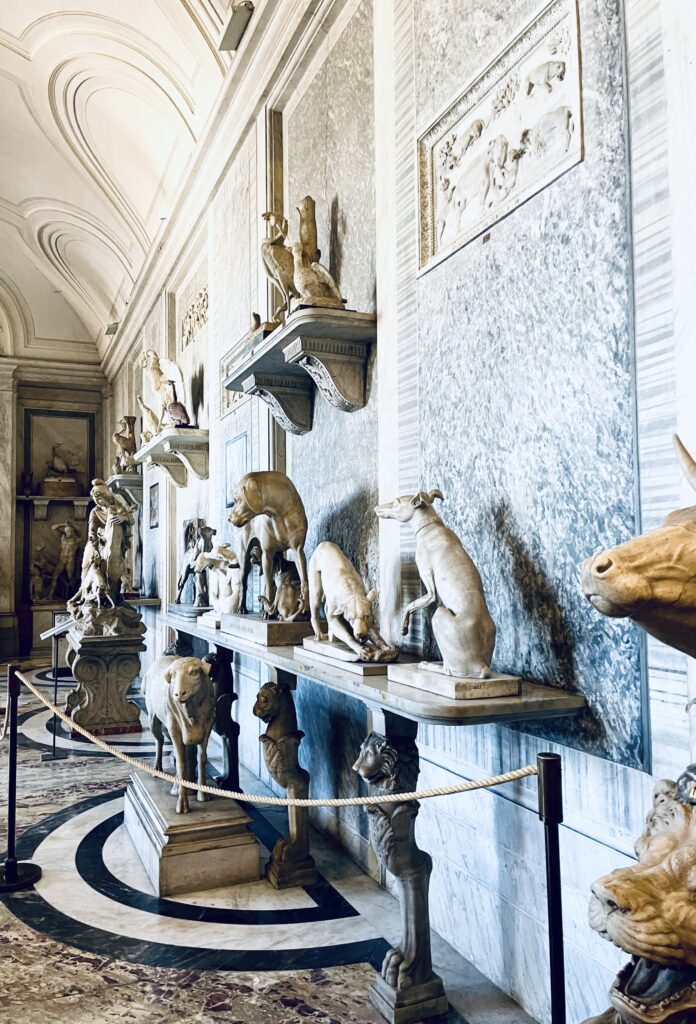 A boxer glares into the distance, ready to fight whoever knocked his penis off.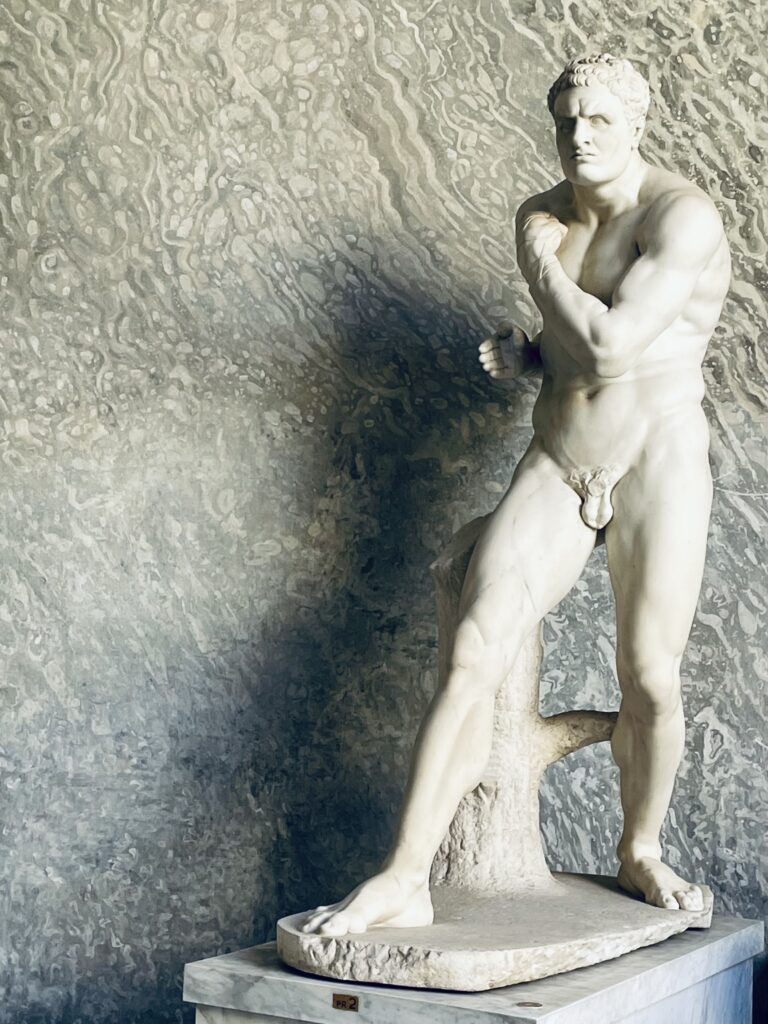 You also get some room to move in these marble spaces, albeit briefly.
The first time I visited the Vatican, many years ago, the Sistine Chapel was under restoration. A Japanese television company bought rights for professional photography and filming for a few million dollars, so a photography ban was instituted. The money helped fund the restoration; the exclusivity contract expired in 1997.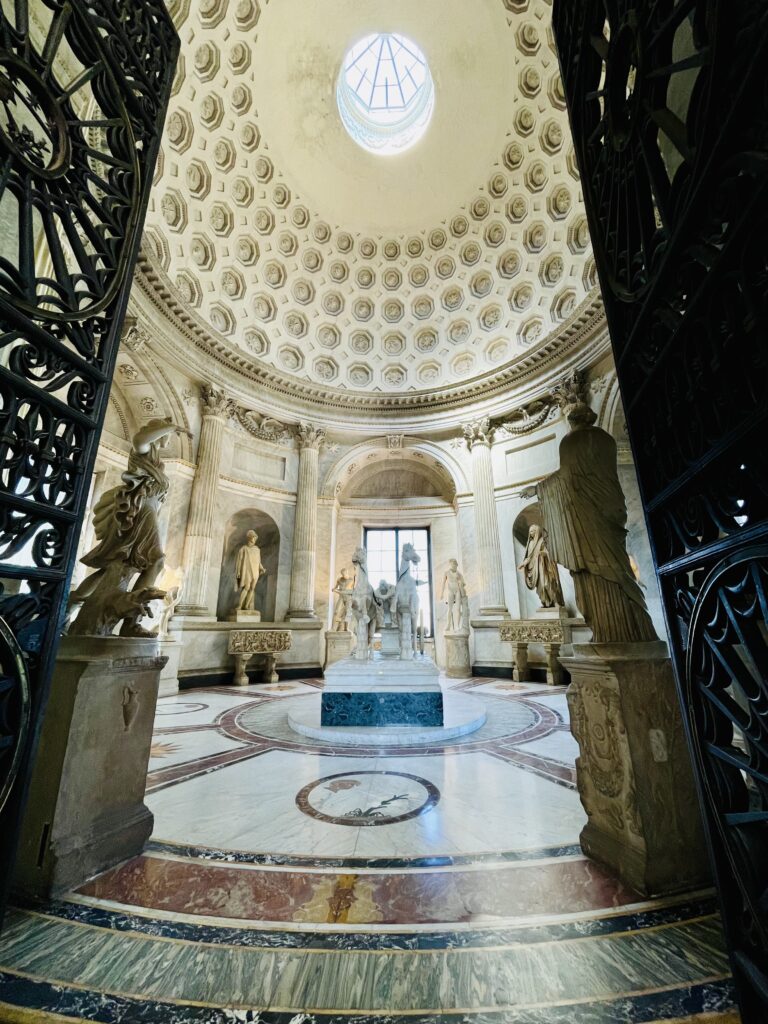 The entry was more awkward then, a narrow, low door, and as I waited at the sill for a tour of six people in wheelchairs to pass, a German tour guide wishing to stay on schedule saw me as a barrier and tried to push me through into the chapel. The tour guide was strong, and I fell face first across the lap and armrests of a startled man in his wheelchair.

Today it is even more crowded. The security guards demand no photography and require silence. They kept the no photography rule from the 1990s (cameras on phones are unlikely to cause any damage from a flash). Still, the added silence and absence of bursts of light have a purpose. This many people crammed into this chapel, all talking excitedly and taking pictures at once, would raise such a din that any attempt to observe the chapel for its intended purpose would be lost. As it is, the dense crowds whispering and sneaking photos do this anyway, but I often turn to scan those admiring the chapel ceiling. There is a guilelessness and beauty in their upturned faces.

Our guide loud whispers, pointing to Michelangelo's Last Judgement, "This is where Jesus, he get'a his revenge."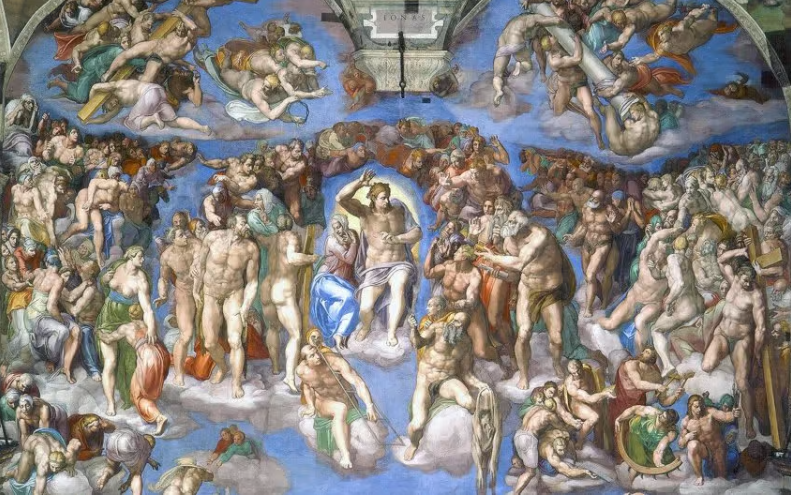 He gives us five minutes to walk about on our own, and then we gather again near the exit. We file out through the small door I was forced through many years ago and move on through the remainder of the complex to the outside, where we are supposed to walk to see St. Peter's Basilica. We are 4 hours into a 3.5-hour tour, and with the heat climbing and no water, our guide is losing our interest. We ask how long it will be, but his answer is vague. He stops again beside the outer curve of the open arms of Bernini's colonnade to welcome the masses. The stones and pavement beneath our feet are like walking on lava, and we drift into the shade of a nearby column.

"I don't give a shit anymore," my husband whispers. "Let's leave."
"Are you sure?" I said. I have seen the basilica before, but I want him to have the whole experience.
"We can always see it next time," he said.

As the guide talks about Bernini, we do something I had never done before on a tour because the heat and overtime made it seem necessary. We slid off into more shade and then more until we are free from his radius. He doesn't see us leave. I glance back at our red-faced tour group, and most make mournful eye contact, looking at us with longing as we free ourselves.

We walk past the open arms of Bernini's colonnade; a lone, stooped woman chants a dirge-like call for alms, and we hop a cab rather than face the metro again. I give the driver a 50 euro note at the hotel and wait for the change. My husband has already stepped out. The cab driver takes the 50 and quickly flips it for a 10. He waves, demanding more money.

"Wait, what?" I said.
My husband gives him another 50 through the cab window as I get out, and before I know it, we have been scusi'd for the first and only time in Rome. *See my earlier post: Love and Hate in Rome, for an explanation of this term. https://theblissabyss.com/love-and-hate-rome/

We down water and take a long nap in our chilled hotel room. Dark and still as a mausoleum. While the Vatican crowds are stressful (and so is getting scusi'd), the art major in me thrills to see the famous works in person again. I can become absorbed, if only for a few seconds before someone jostles me. We all have to learn to do this when we travel: carve our own interior space out to "see" through the tourist hordes while also reminding ourselves to catch the glints of complete joy and awe in the individuals around us. It's beautiful.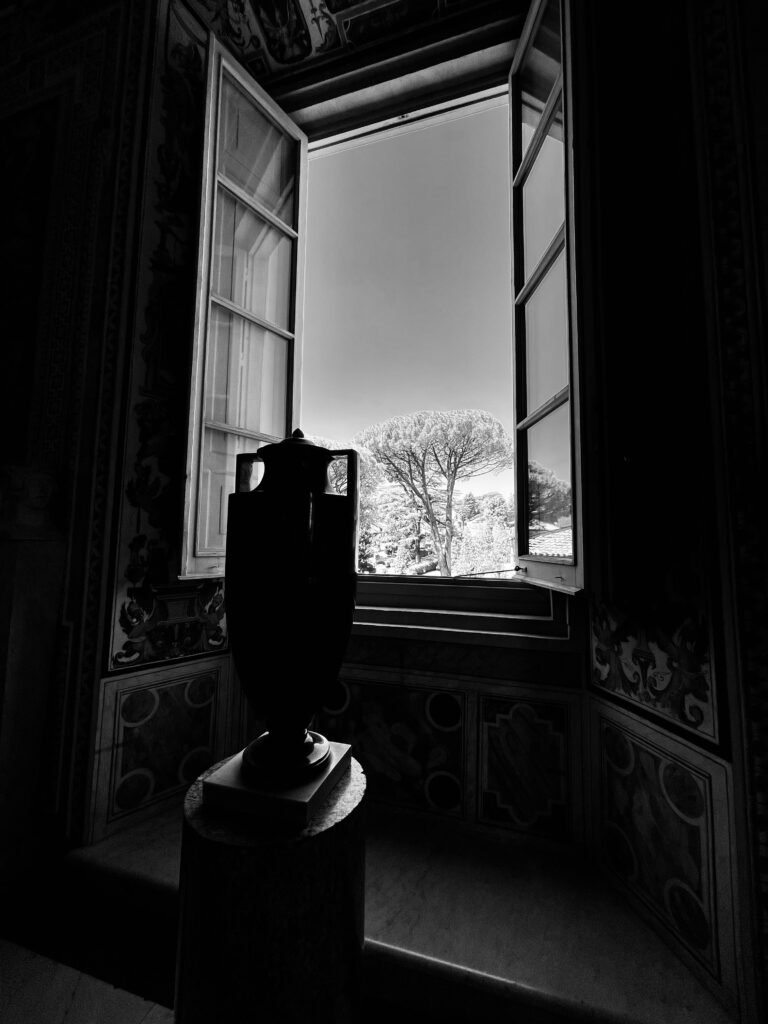 General Tips –

Get a skip-the-line ticket whenever possible, but be aware there may still be the line for entry.
If you find yourself thinking ugly thoughts about humanity because of intense crowds, look at the faces of people as they enjoy the sites. There is much to love there.
Carry extra water, if allowed.

If you are feeling overwhelmed go to a cool, dark private place and rest.