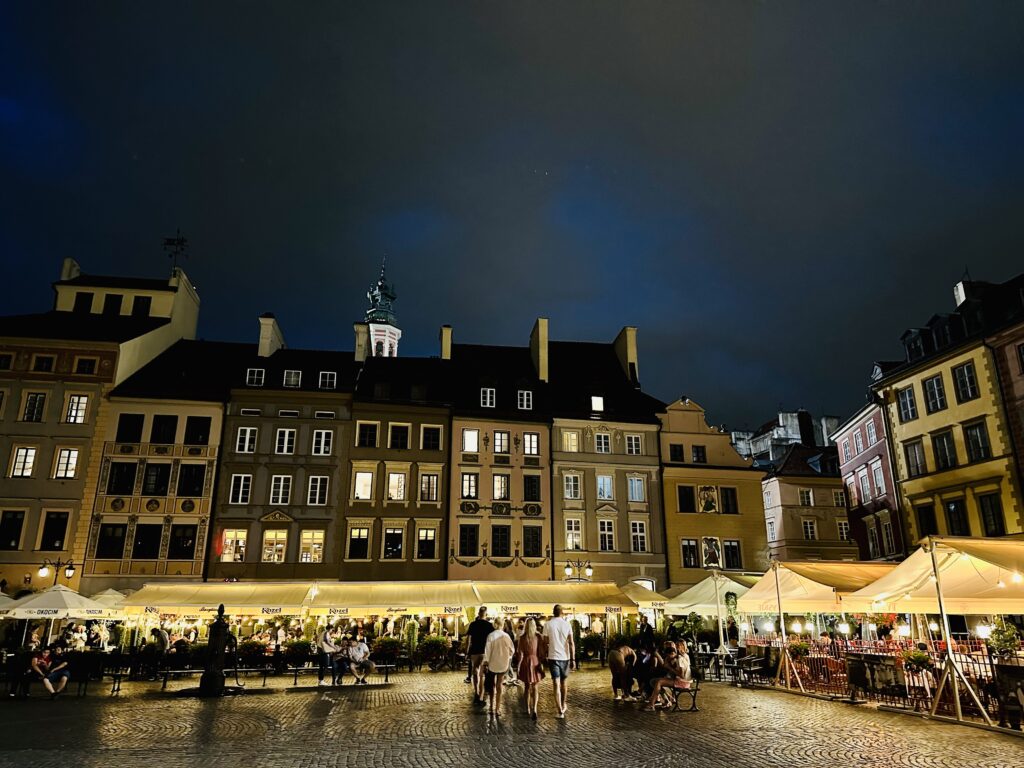 Warsaw may not have welcomed us with open arms, but our first evening out was lovely. Our spacious apartment in old town smelled heavenly from the street waffle operation below us. After stashing our luggage, we learned the restaurants closed early. Fukiera was our host's recommendation, and it was lucky it was only half a block away.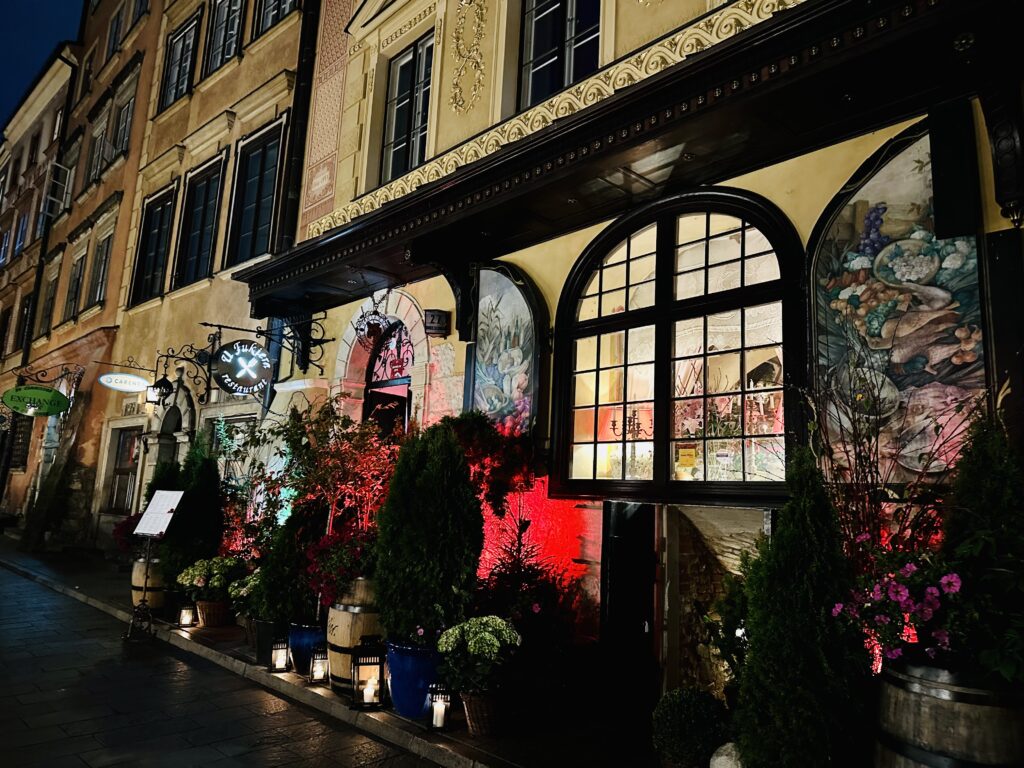 I'll admit I don't know a great deal about Polish food beyond pierogi. Arriving back in the US for Christmas last year, my sister shared a Facebook ad with me. A woman was selling pierogi from a garage in a neighboring town. I drove to the house and stood on her doorstep while she went inside to get sacks of frozen dumplings filled with meat and cabbage. I love the simplicity of these types of exchanges. Someone makes something delicious, shoves it in their freezer, and someday you find yourself standing on a stranger's doorstep with cash and a need. Those dumplings, boiled, sauteed in butter, served with chives and sour cream, sustained us through the Christmas visit.

The square, just a half block from where we were staying, had diners at cheerfully lit sidewalk cafes festooned with ivy and flowers. We grabbed an outdoor table at Fukiera, a restaurant originating from the 16th century, where we had a good view of the square. All the pushiness of the airport melted after our first drink arrived, the Fukier, a Bison Grass Vodka, Amaretto, Cointreau, apple, and grapefruit cocktail served with a slice of orange. The vodka is Polish, first manufactured in 1928, although they claim the recipe dates back to the 14th century. The Bison Grass name is because they slip a single blade of this grass into each bottle. The Fukier was chilled, potent, and refreshing, just the thing to wipe all memories of air travel away.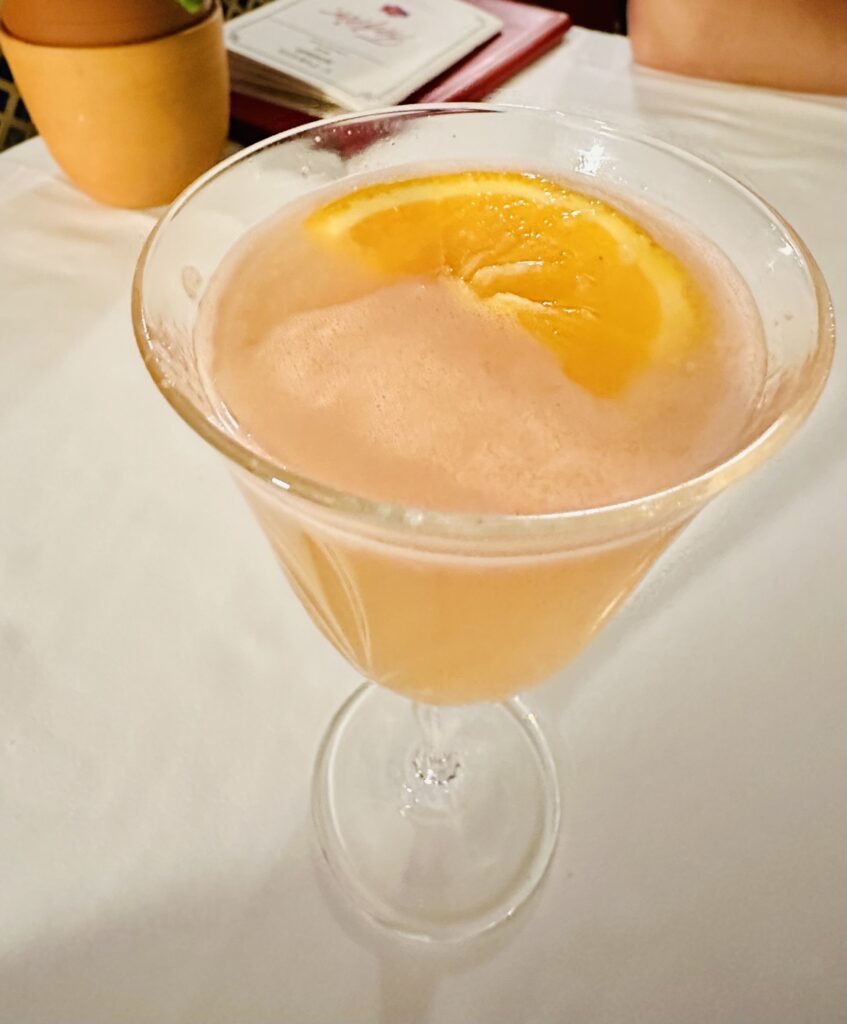 As we sipped our drinks, an occasional family or couple wandered across the square to take a photo with the mermaid statue (protectress of Warsaw) or worked the old iron water pumps. People walked dogs and sat on benches, admiring the peacefulness of the evening until a light rain briefly fell. We sat under large umbrellas and watched them scatter. I could see the open windows of apartments looking out on the square, a potted plant in a window, someone adjusting pillows on their sofa, and thought how nice it must be to throw your windows wide on an evening with a soft rain.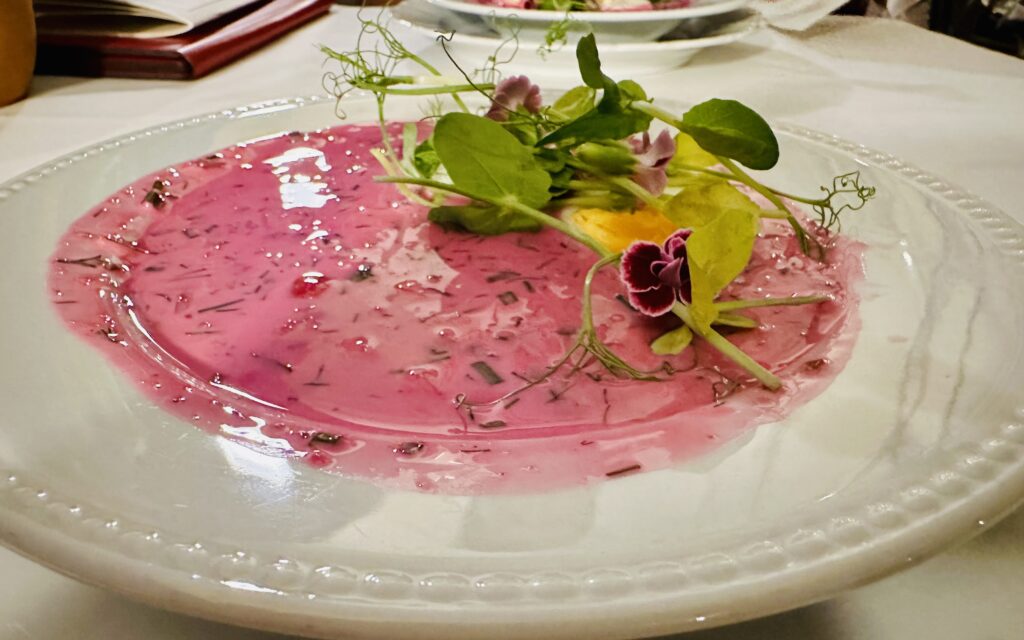 We both ordered the chilled beet soup from the summer menu, a traditional Lithuanian style served with dill and a free-range egg, topped with watercress and edible flowers.
The presentation was stunning with all the colors of spring, and the sprinkling of watercress on top created a nice contrast to the creaminess of the base. I cannot replicate the exact recipe from Fukiera, but this soup generally has a base of sour cream and buttermilk, with beets and cucumbers.
Soup Recipe and Restaurant Link Below

: Warsaw: Trying New Dishes in the Old Town
This soup tasted how I wished every spring could be – fresh, sweet, smooth, and colorful. It tasted like something fairies in a magical forest would tip into their tiny mouths from silver thimbles. I imagined this soup sipped by queens, by powdered ladies in a gilded salon, by woodland nymphs, by angels when they needed a lunch break. This soup made us happy. My husband looked at me, and I looked at him. We did not have to speak. We were lucky, we both thought, so goddamn lucky, to be eating this soup together right now. Nothing could be better than this moment and this soup.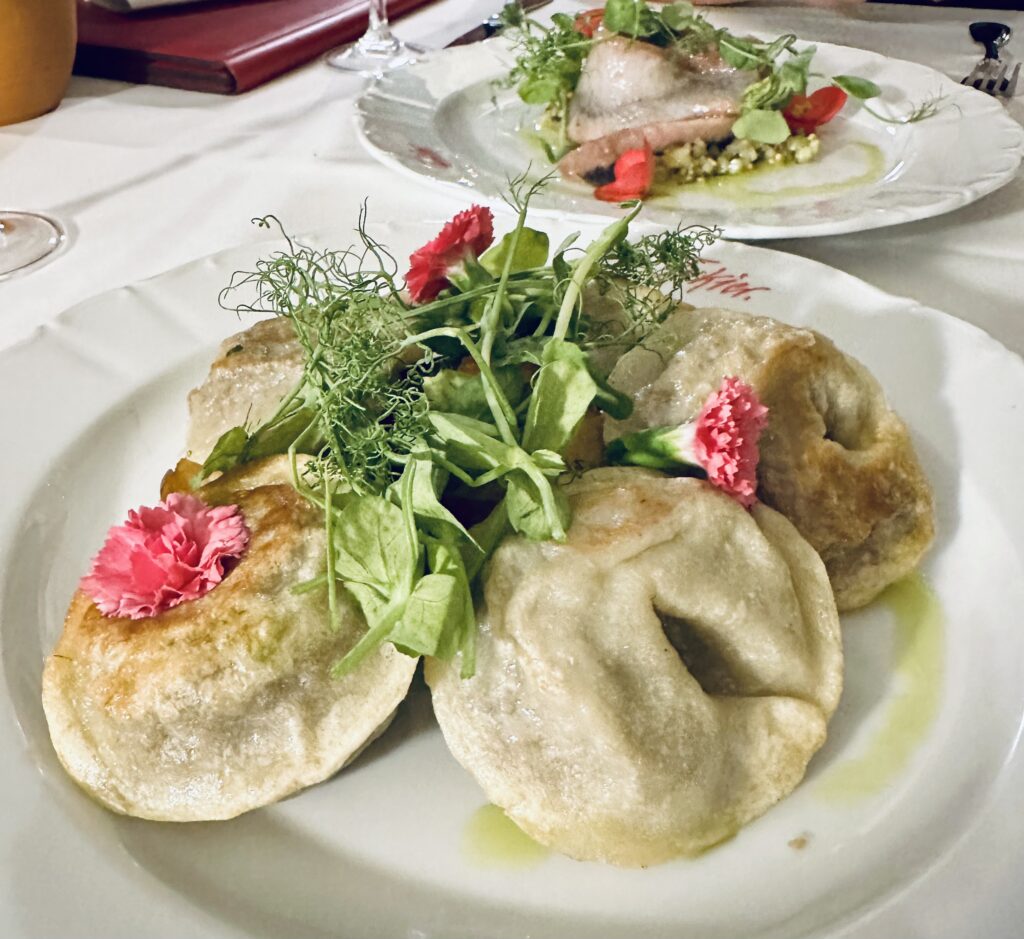 Then the next dishes arrived, pickled herring and duck dumplings. The flavors were an excellent transition from the soup's lightness to the herring's salty richness and the pierogi's dense earthiness. The fish, coiled and glistening on a bed of diced and vinegary celery, garnished with even more watercress and blossoms, tastes nothing like anything you have ever had out of a jar. Tinned and jarred pickled fish are fine if you like that, but this was clearly fresh pickled herring. We ate it with the same ferocity and startled joy as the beet soup, and then my husband said something that shook me.

"We may have ordered too much food," he said.

No, it couldn't be. We never could have ordered too many of these incredible dishes. However, as we dug into the duck pierogi I realized he was probably right. The pierogi alone would have been enough for dinner, each dumpling crammed with what seemed like at least ¼ of a duck. Sauteed lightly and browned in butter, they were a heavy addition to our already expansive starters. We ate every last one before the venison arrived. At least we had the good sense to only order one plate to split.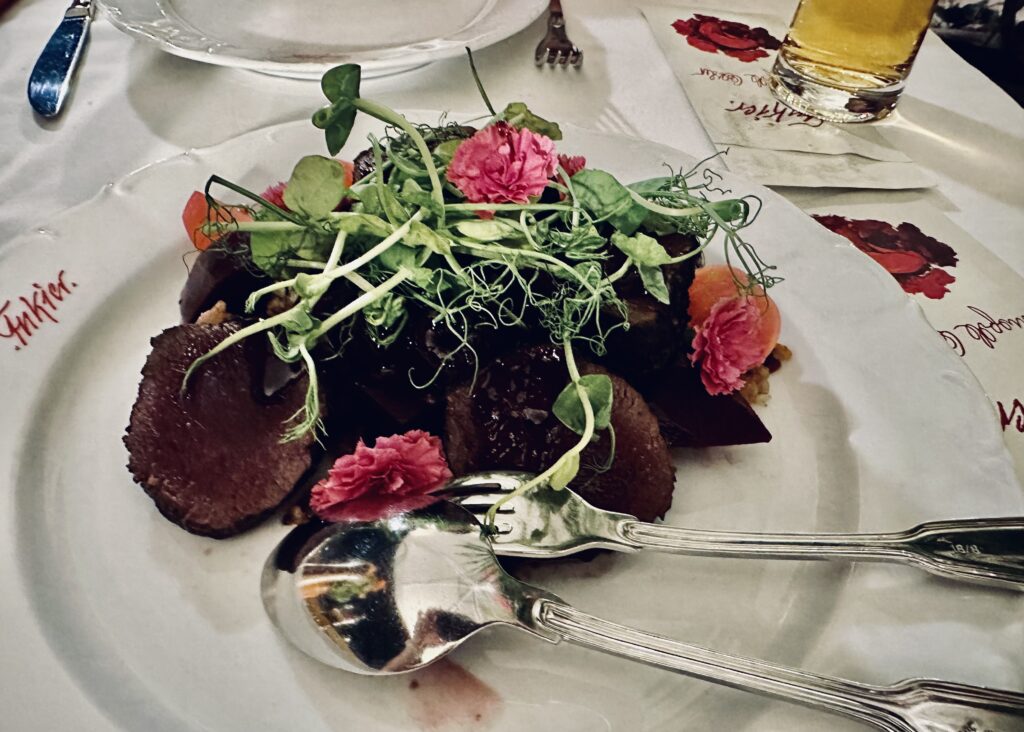 The venison was dark, rich, and tender, served in a sauce of fresh blackberries atop roasted buckwheat, accented with black cumin. I've had many a fine dining experience with venison, and many an Ozark version as well served out of a crockpot in someone's warm kitchen, but this was the best venison I have ever had. The tenderness of the meat held such intensity of flavor and absorbed the warm sweetness of the berries. We cleared that plate too.

Adding dessert was impossible, so we walked the short distance back to our apartment. The taffy and balloon sellers had long packed up, and the waffle and ice cream place below us was closed, although the apartment still held the sweet smells. We settled in for an evening of relishing the memory of dinner until sleep. If you find yourself in Warsaw, add Fukiera to the list of places to visit. After the fact, I read the interior is supposed to be unique and ornate (we dined outside), and some reviews were mixed on the service and food. However, we found nothing lacking at this dining landmark in the old city, and it has inspired us to try new dishes at home.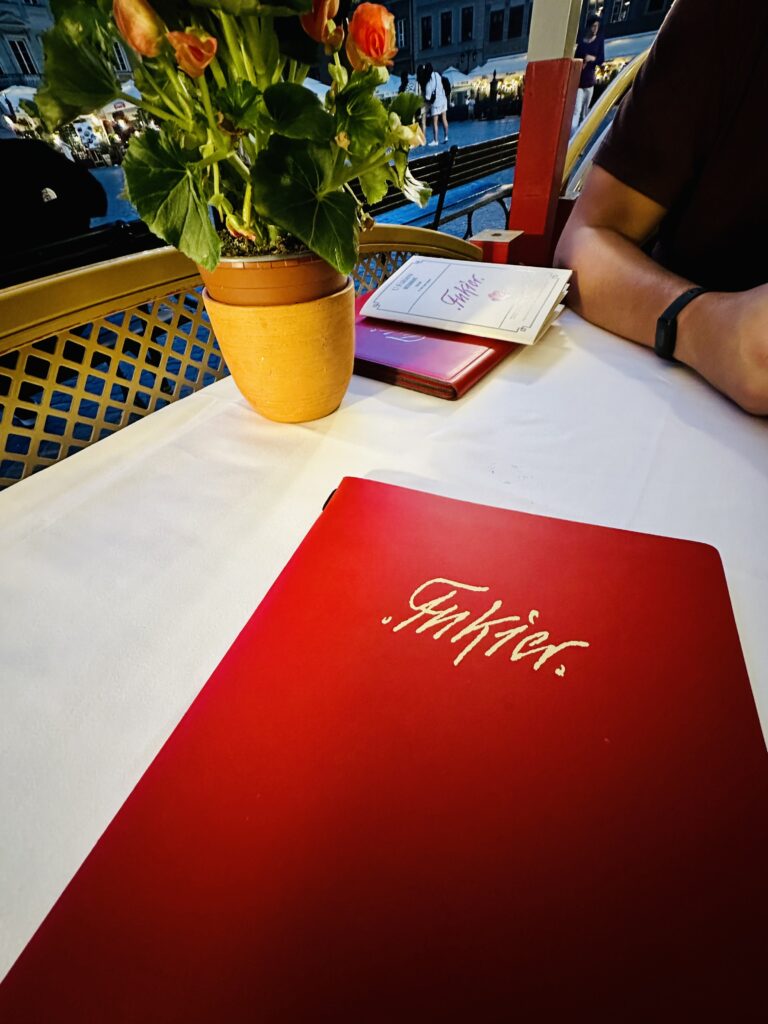 General Tips: