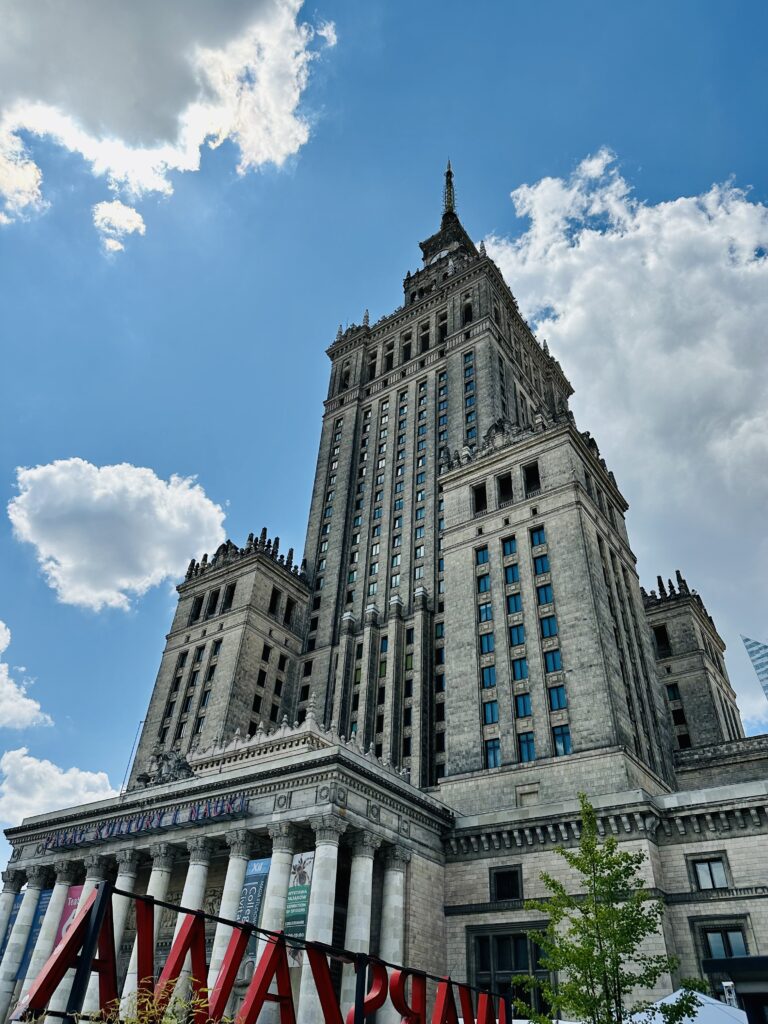 We spent Saturday in Warsaw drifting around before our food tour that evening. We walked over to the towering example of Stalin-era architecture, the Palace of Culture and Science. The building is loved and despised, hated for its history and severe façade, and loved as Warsaw's tallest, most recognizable landmark. It is a communist approximation of the Empire State Building. Many homes and businesses that survived the Nazis were razed for the structure and park before it. The building houses cinemas, theatres, and scientific and educational facilities. It has several derogatory nicknames, including Stalin's Rocket and the Syringe, and does have a phallic, fuck-yeah-Stalin air to it. We stood in a brief line to access the observation deck and dutifully looked out from all four sides at the city spreading out around us. Beyond the reconstruction of the older quarters, most of the town is modern, steel and glass. From this height, it looks like it could be anywhere.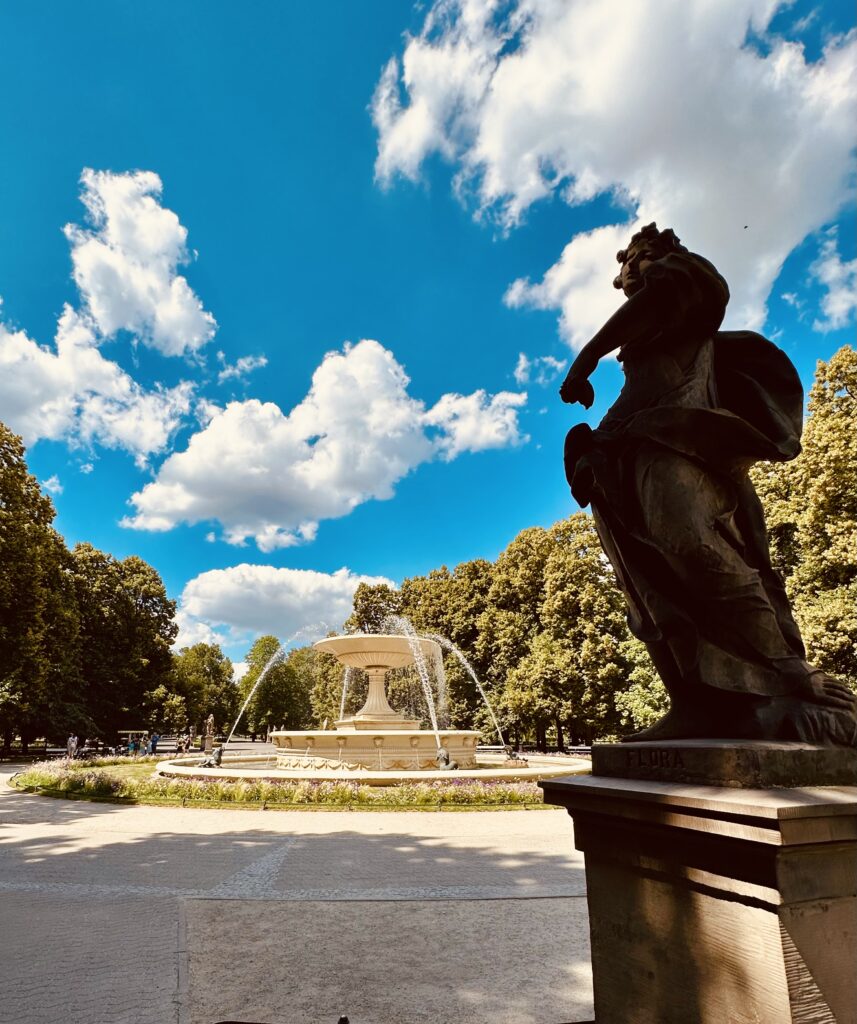 Walking through the neighboring parks on our way back, we kept seeing the odd-looking bi-color birds, plumed as if dressed for an evening out.
"Look at those things! What IS that?" I said.
My husband discovered it was the hooded crow, a bird that looks like any other crow except for a grey body as if it is wearing a suit coat.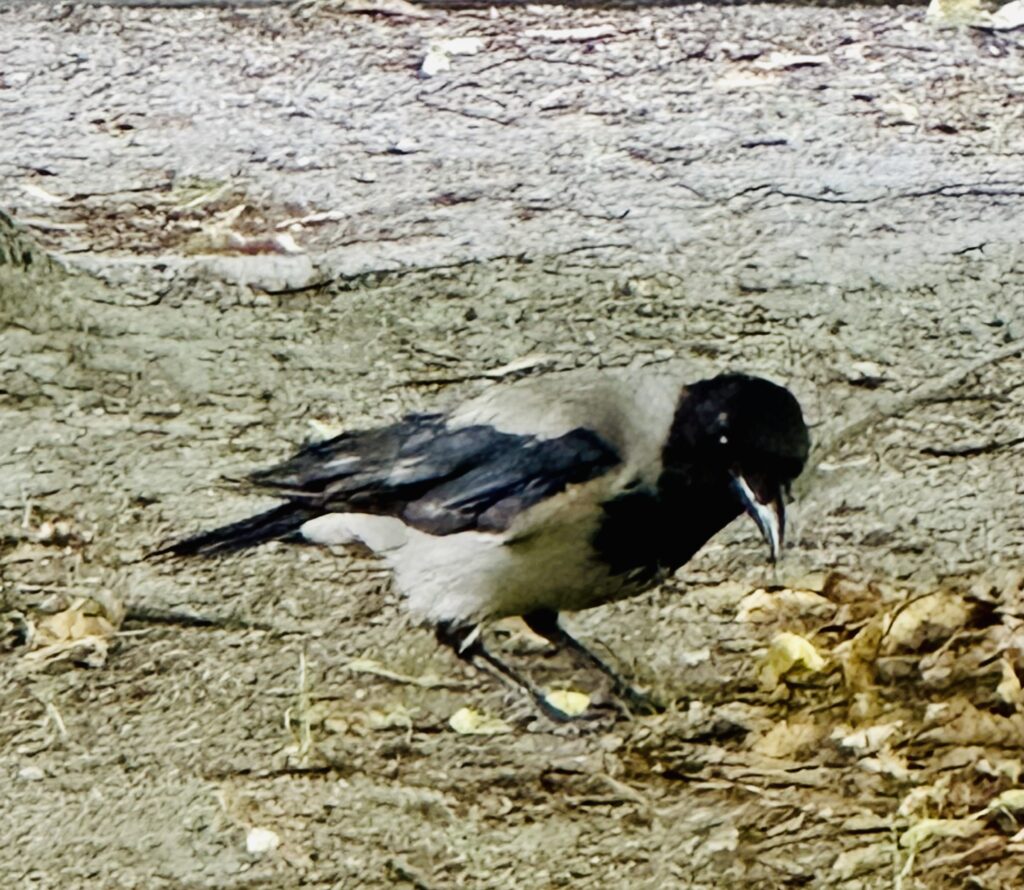 After a brief rest back at the apartment, we sampled pierogi at a Polish chain restaurant called Zapiecik, where we dined on various dumplings to keep our strength up for our food tour that evening. The waitresses were costumed in something that melded cocktails and milkmaids, as if your Polish granny opened a casino on her farm. I've never met a dumpling I outright rejected, and they all were delicious. .

Numerous windows on our street near the historic square displayed exquisite amber jewelry. There is also a great deal of ordinary amber jewelry. Still, many designs are unique and gorgeous, showcasing the hardened resin from the Baltic. One-of-a-kind pieces are found with insects encased in them if you fancy wearing a 40 million year old gnat in its final death throes around your throat. I love amber, its golden glow and translucency. It reminds me of browned butter, honey, pancake syrup, and a tiger's tawny iris. There is something so summery in the color, like it captures far more than an odd bug here and there and has distilled the quality of light at sunset.

However, I found the pricing high despite the quality. I decided to pass on adding anything more than a refrigerator magnet to take home as a memento from Warsaw. Maybe next time? Looking at these photos again fuels my need to have one of these beauties dangling from my fat, dumpling-loving neck.

We wanted to find something engaging to do for a few hours and headed to the Vistula River and The Copernicus Science Centre, an interactive museum containing over 450 exhibits that are supposed to delight both adults and children. It LOOKED interesting from the outside, but we discovered that Saturday is not the day to go if you want an entrance ticket. It was also poor timing for the sold out adjacent planetarium. We could hear and see the happy children inside as we stood outside, ticketless losers in the game of fun.

Another museum was next door, so we popped inside to see what they offered. The entry opened into a welcomingly chilly, high-ceiling bookstore where I discovered the exhibition focus in the dark interior – early feminist films of the 20th century. The cold air was appealing. "It is a series of feminist films from the '70s," I said. We silently looked at each other. No one wanted to outright reject feminism as afternoon amusement, as we all identified on some level with the cause. Still, we came for interactive exhibits, essentially adult play painted sloppily as science, and films about women's rights would ask us to think. The darkness would have put us all to sleep after our long day in the heat. We opted for river drinks.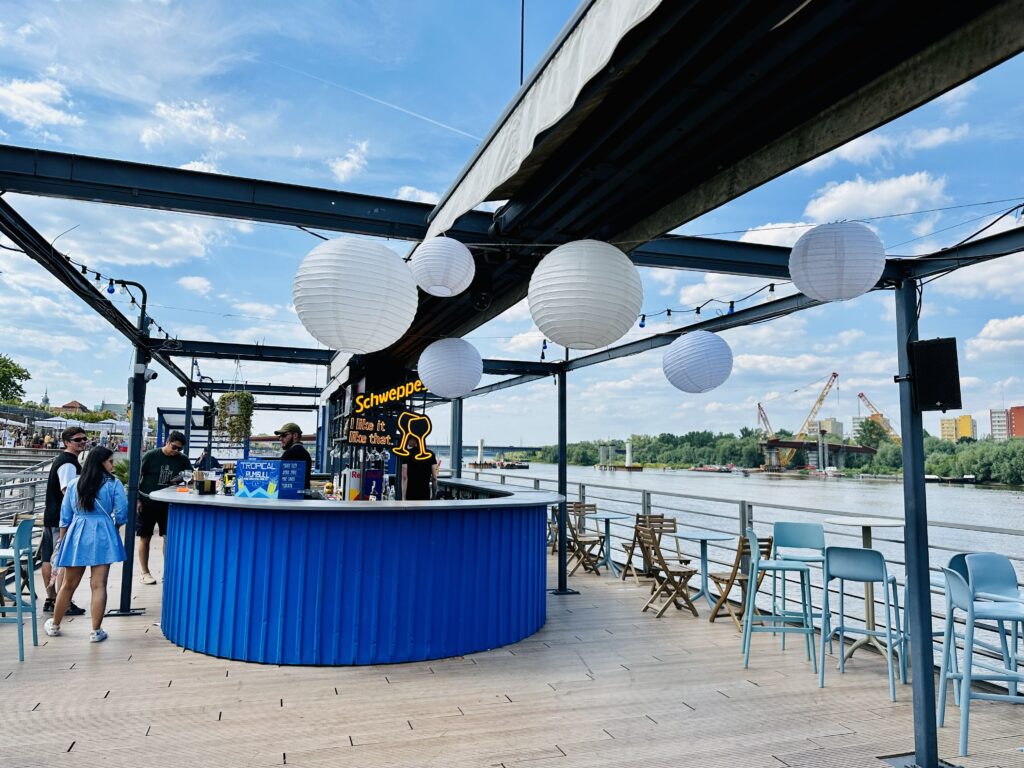 The first bar had potential, an oversized party barge, but we soon found out why it was empty. With each drink we ordered, the bartender told us what was missing.
"We are out of apple juice, grapefruit juice and ginger ale," he said when we ordered drinks. More ingredients were missing with each order. We sat down with versions of the original drinks and watched the river.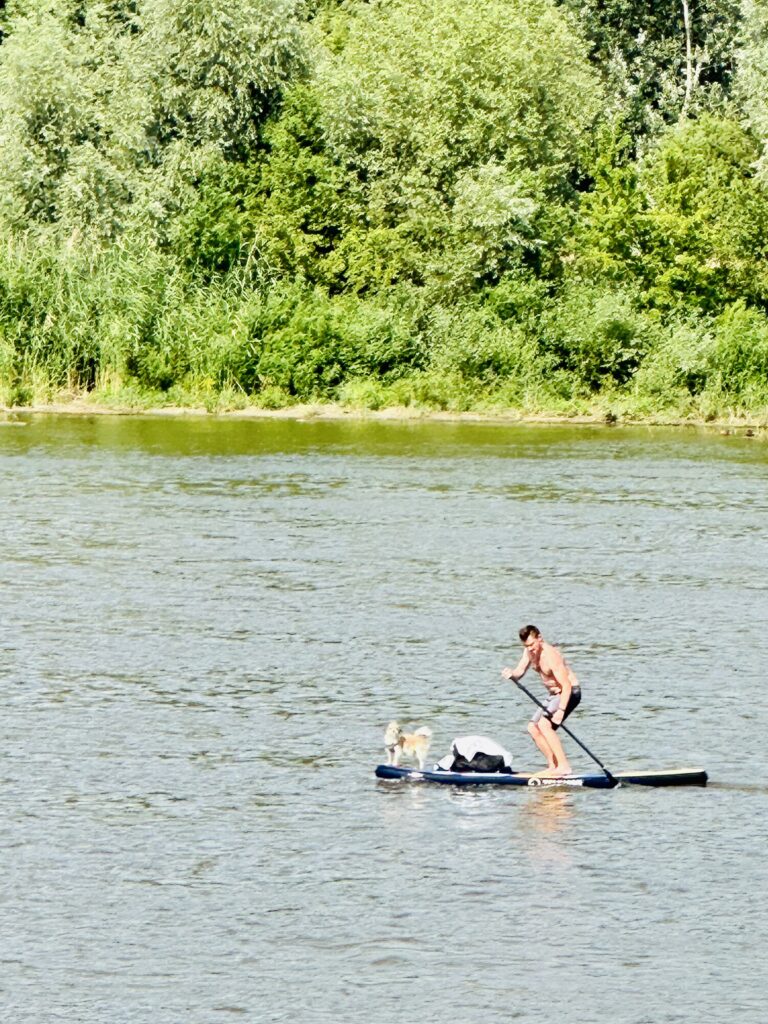 Kayakers drifted past, and one man on a paddle board with a proud river dog. Across the river, the banks preserve their natural look, bushy and sandy. Upstream, the Swietokrzyski Bridge is striking and provides a beautiful backdrop on the Vistula. The river's name sounds like something you would have removed by a trained surgeon, and the linguistic origin references something that oozes slowly. Ew.

After one disappointing drink, we moved on to beer at a hopping sand bar a block away. Bezkres grilled sausages and served beer indoors and out, where patrons could sit on swings or lay in beach chairs and wiggle their toes in the sand.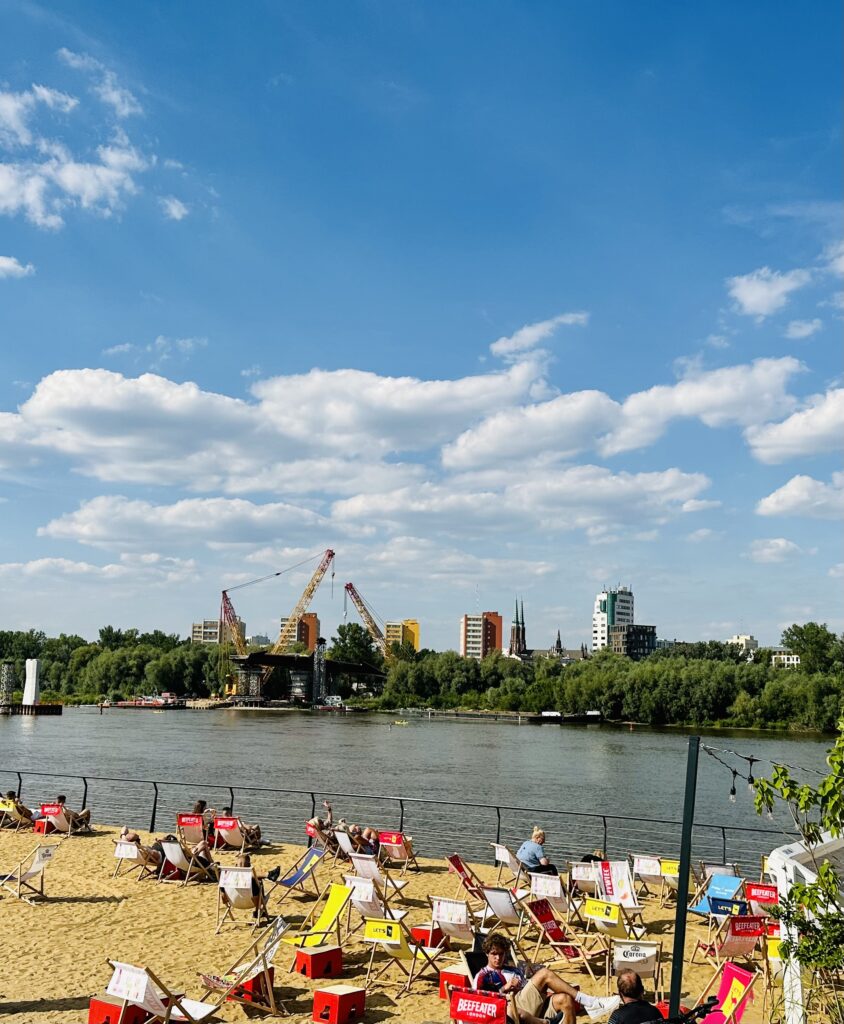 This stretch of riverfront property was industrial, abandoned, and undeveloped just a few years ago, according to our bicycle tour guide earlier in the week. Today it is hopping with restaurants serving everything from pizza to tacos to pho and gelato. Vintage clothing stores and bars share space with chain stores like Urban Outfitters. Splashy museums bring art, film, interactive science, and the planets to the citizens of Warsaw, while newly constructed apartments bring prices in the high six figures. A cycling and walking path along the river is bustling, and people lounge in the sunlight or let their children play in fountains.

We sip our drinks and watch the families, couples, and friends enjoying the sunny weather. Our original plans didn't happen, but I always welcome the opportunity to relax and people-watch rather than check off a list. We will have to wait until next time to see the museums, but the riverfront was a wonderful place to spend a beautiful afternoon in Warsaw.

General Tips:

Plan ahead for The Copernicus Science Center. This is a popular place.
Take time to stroll through Warsaw's parks as well as the riverfront.
If you can, leave time each day for walking around and watching a city rather than touring exhibits or buildings. You can get more of a feel for what it is like to live there.