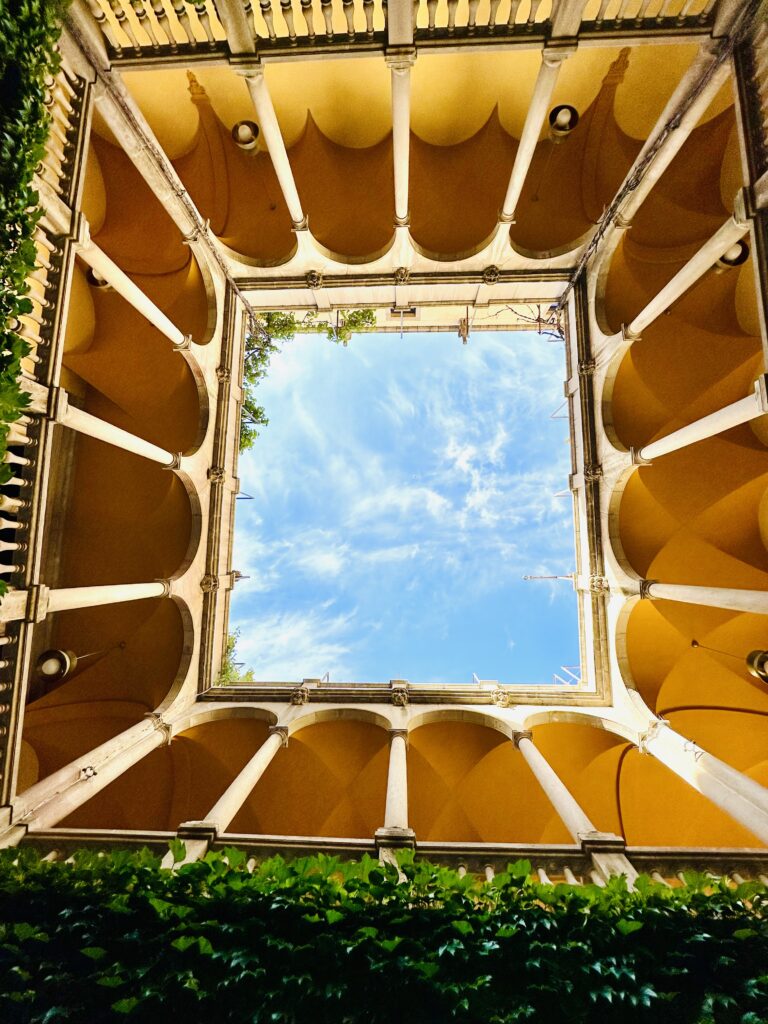 Barcelona is exciting for its food, history, architecture, and art. It is also intensely crowded, frequently impersonal, and over-touristed, so as much as I want to love it, it is a less passionate affair than I have with other cities. Looking at you longingly, Cadiz! Maybe complex is another way to put it. The first time I visited Barcelona was 13 years ago. At the time, I was living in Tallahassee, Florida. While there were plenty of places to get cheesy shrimp and grits or a grouper burger, this is where the culinary flare petered out. After years in the Florida panhandle, my first experience with real tapas in Spain made me do a little dance, like a toddler. Witnessing the architecture and wandering the Gothic Quarter felt like visiting another planet or time. Despite someone trying to steal my debit card and rough men muttering gross things and shoving me on La Rambla, I was thrilled to visit the city.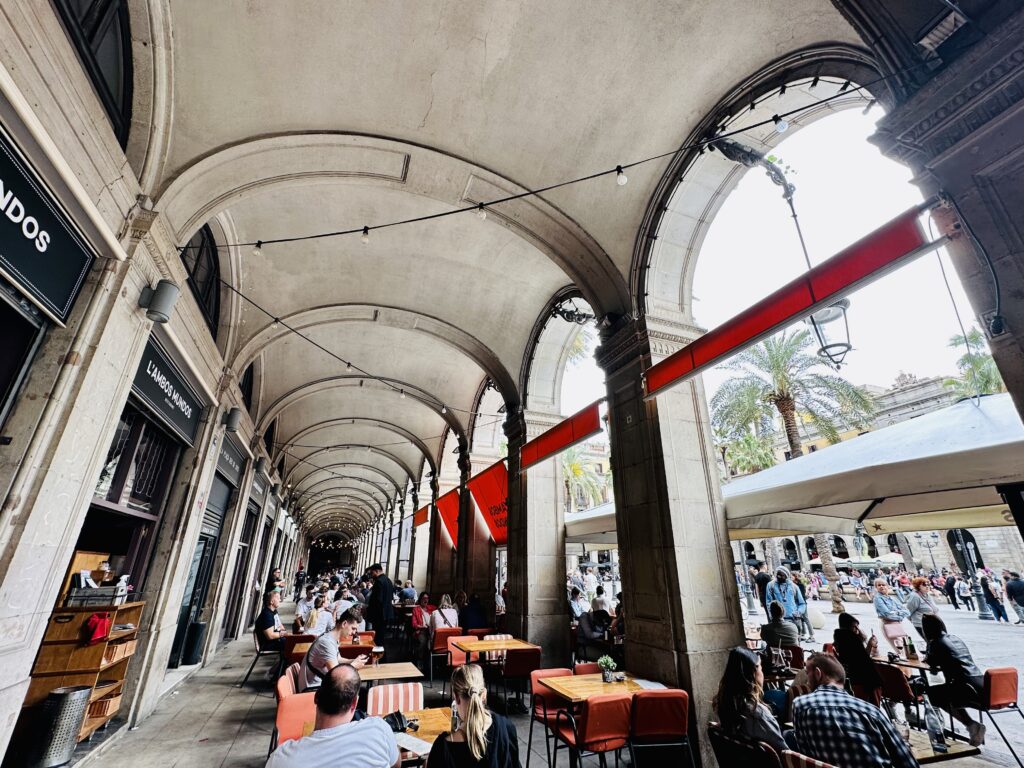 I have one distinct memory from that first trip years ago that stands out. I had ducked into an almost empty bar on La Rambla, where the bartender sadly poured me a glass of wine and asked me where I was from. I told him and asked where he was from.
"I am from a very small village," he said. "On a beautiful island."
"Oh," I said. "What brought you to Barcelona?"
"Work," he said.
He bent his head down and blinked back tears.
"I hate it here," he whispered, returning to wiping down the bar.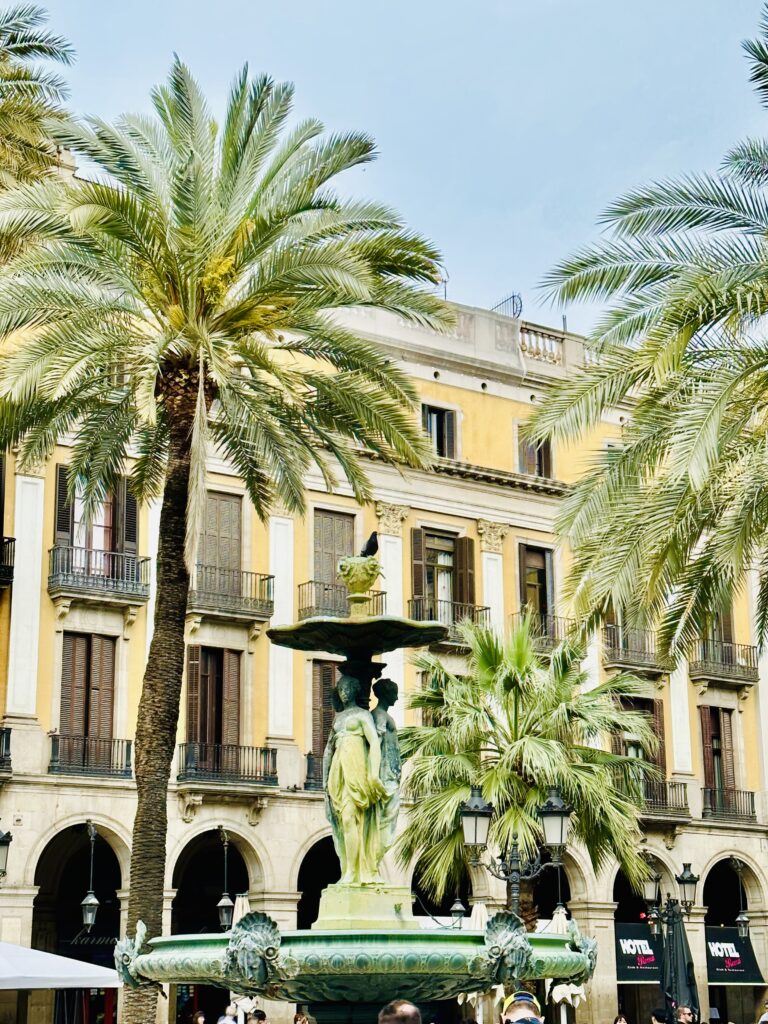 I think of this young man on my second visit to Barcelona this spring. 13 years of increased tourism and the swell and strain of human bodies on the streets means ever-pricier apartments and cost-of-living for the city residents and visitors alike. It is still stunning, with architectural styles spanning the Gothic Quarter to Guadi's expansive and imaginative designs. One of the first places for most tourists to go is the Gothic Quarter.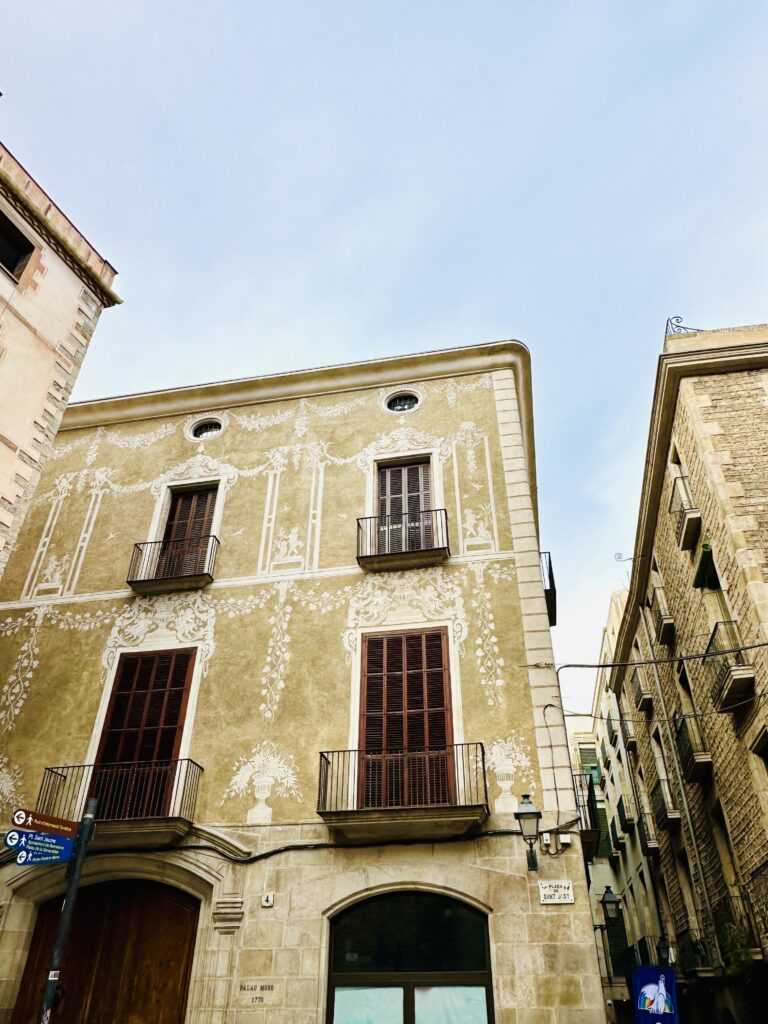 The area encompassing the Gothic Quarter contains the remains of Roman walls built to deflect invaders in the 3rd Century, as the Romans initially established the city as a colony.
Here alleys narrow to the width of a small cart and stone walls erected by the Romans still stand. The walls must be shored up and protected, as their stones have a crumbly, porous look after centuries of elemental wear, like teeth that are slowly going bad. Those same walls funnel noise, as I learned on my first visit when I rented an apartment there, so I would not advise staying in this area if you want to get some sleep. Occasionally there is a brief opening before a church, large enough for some café tables. The city still has a few ancient fountains producing drinkable water (now conveyed by brass spigots) with the sour faces of the original spouts visible.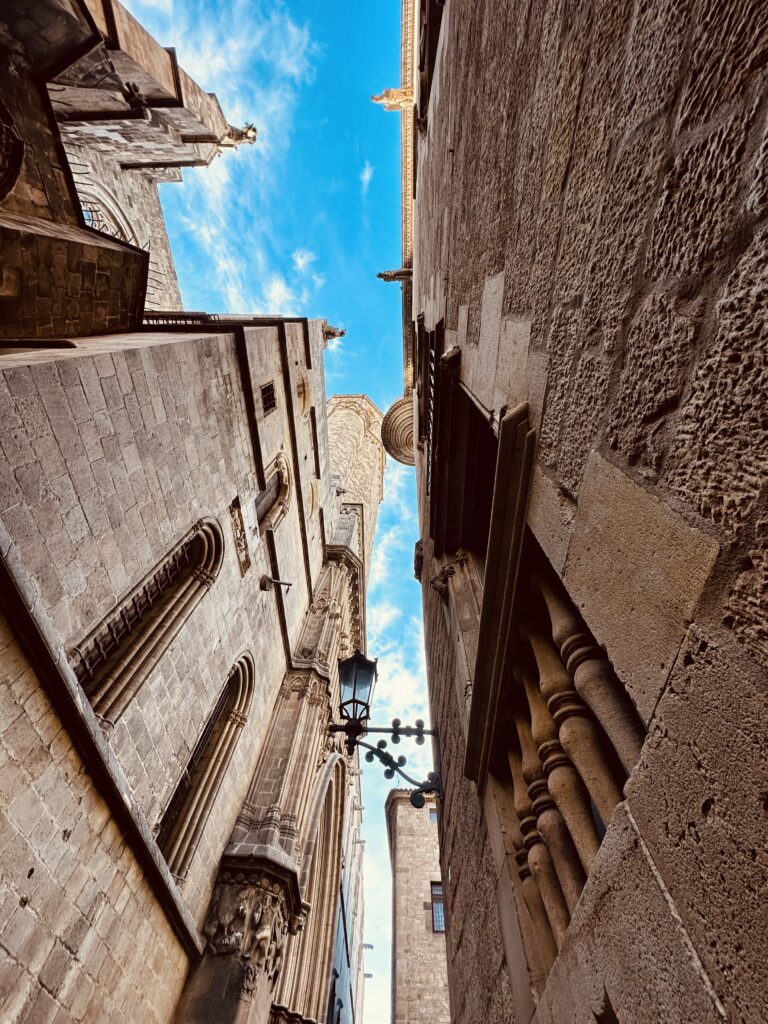 The streets are lined with tattoo parlors, restaurants, bars, and places that sell Barcelona-themed trinkets. Like anywhere central to tourism, the menu prices will reflect tourist pricing, so don't expect bargains. Today's narrow alleys are filled with tourists shuffling along, gazing up at the surrounding walls and trying to find the most authentic spot to have lunch or buy a refrigerator magnet. I chose the ubiquitous Gaudi lizard from Park Guell for mine, displaying the name Barcelona along its scaled back so anyone wanting a beer out of my fridge can think about this city each time they open the door.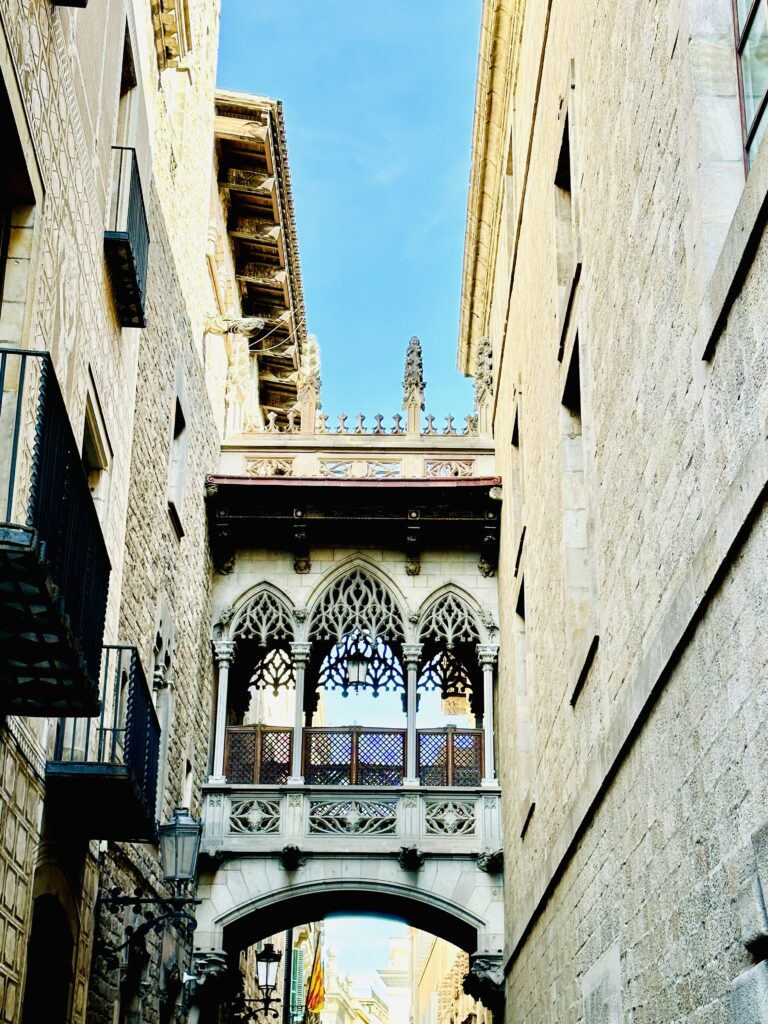 One of the things that many may not realize is that very little of the architecture in the quarter is genuinely Gothic. Through restoration and romantic flourishes, much of it was styled in the 1900s to appeal to those attending the World's Fair. The neo-Gothic additions were a good choice for crowd appeal, which still draws them today. The quarter feels romantic, like you are walking through a movie set made for a Victorian vampire love affair, and I can see how it would have the same appeal to visitors in 1929 as it does today.
Popping your head into buildings (clearly marked open to the public) can still reveal startling antiquity, such as the ancient Corinthian columns that once supported the Temple of Augustus from the 1st century AD. The temple remnants are displayed for anyone to see in a courtyard designed for this purpose, complements of the Hiking Club of Catalonia, which now owns the building surrounding it.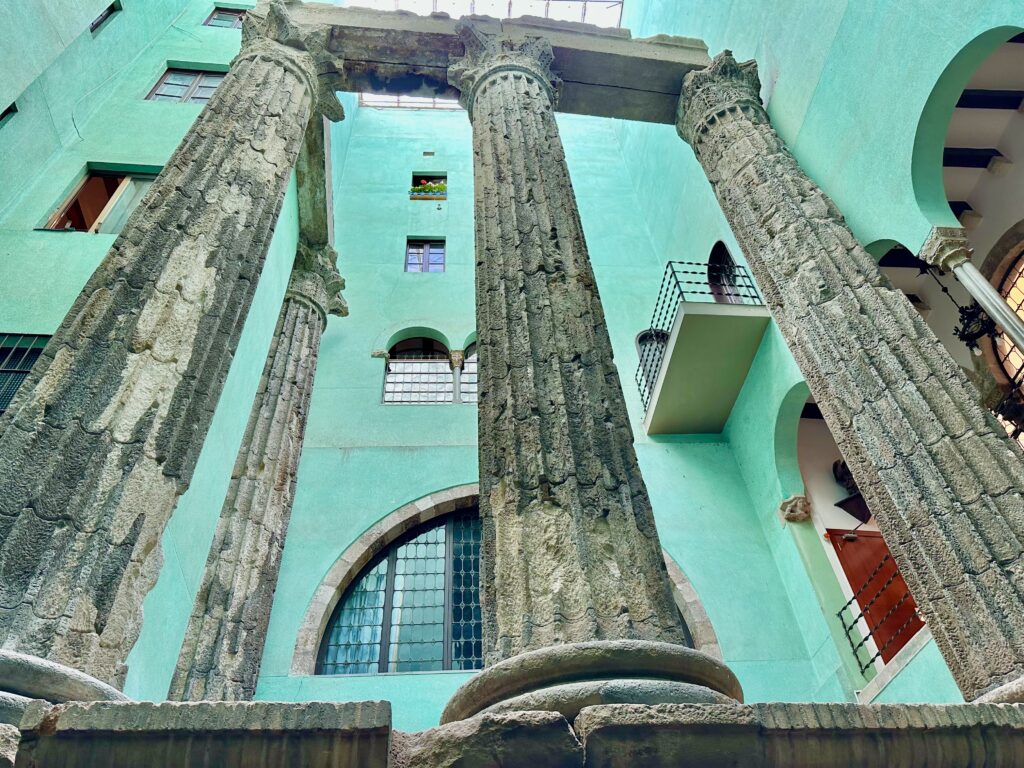 We peek into more open passages and doorways, and wander past street buskers, some tolerably good musicians, and one exceptional opera singer with hats out for tips. A trio sits with a banjo, guitar, and trumpet, and a man growls out an old-timey swing song about a wayward lady. We stop at a small street café in an opening before the Font de Sant Just. I watch the café-owner shoo away a clean but rumpled old man begging customers for change, and the church bells above us begin ringing as we pour a pitcher of sangria. The streets have a hive-like feel due to their lack of width or clear direction, and it is easy to get lost and find yourself again at the edges of the quarter.

Ultimately, the over-tourism can only partially detract from this area. The tiny balconies above us hold tumbling plants, music drifts down from open windows, and you can still drink from the ancient fountains. Finding a quiet spot to sit and spend an hour or two is still possible. Even though other cities have a fiercer hold on my imagination, a more intimate experience, I know that I will be returning to the beautiful streets of Barcelona again and again.

General Tips:

Any of the top places to visit in the world will be crowded. I am not reminding you of this to poop on your dream of visiting there, just to prepare you so you are not startled when you do.
Wander with no clear direction. Stop when it feels right. Rather than checking spots off on a list, you can see more by finding a great place to watch people for an hour or two.

The Gothic Quarter is rich in history and architectural wonders. Try reading up on a few before you go, or take a walking tour with a trained guide.